Nigeria's Chief of Defence Staff Air Chief Marshal Alex Badeh said on Wednesday that though the military know the location of the over 200 girls abducted in Chibok, Borno State over two weeks ago, it is mindful of deploying its full might to rescue them for the safety of the students.
Badeh said the insurgents may kill the girls if the military deploy its full strength to rescue them. But he assured that assured that the military would free the girls.
"It is not the number of those abducted that is the issue but the attendant psychological trauma of every parent.
"We were given information about where they are. We cannot use heavy power attack because we will kill the school girls but I assure you that we will free them'', he said.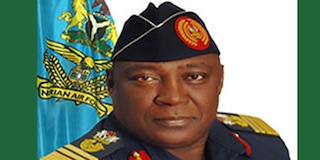 The Air Chief Marshal made the remark when the Board and Management of National Oil Spill Detection and Response Agency, NOSDRA, paid a visit to the Defence Headquarters in Abuja on Wednesday also condemned the insurgents, describing their activities as "pure madness."
Badeh spoke as Nigerians across the country demanded for swift action to rescue the girls believed to be kidnapped by members of the insurgent group, Boko Haram.
In a series of protests across Nigeria, parents of the abducted girls and other sympathisers called on government to bring back the abducted girls.
Senate President David Mark and the Speaker of House of Representatives received the protesters led by Dr. Obiageli Ezekwesili, a former minister at the National Assembly under heavy rain.
Both leaders of the National Assembly assured the protesters that government is doing everything possible to rescue the girls.
The Senate President and 21 other Senators are also meeting with President Goodluck Jonathan on Wednesday night to brainstorm on how to rescue the girls.