LONDON (AFP) – Liverpool manager Brendan Rodgers has backed skipper Steven Gerrard to recover from the potentially title-deciding mistake he made during last week's defeat by Chelsea.
The England midfielder's slip allowed Demba Ba with a clear run on goal at the end of the first half and the Senegal striker made the most of an unexpected chance to give Chelsea a 1-0 lead.
Chelsea added another goal right at the end of the match to secure a 2-0 victory that left them two points behind leaders Liverpool.
However, third-placed Manchester City — three points off the summit — have a game in hand on both their title rivals, with a superior goal difference, and will be crowned champions if they win all of their three remaining league fixtures, starting with Saturday's match at Liverpool's local rivals Everton.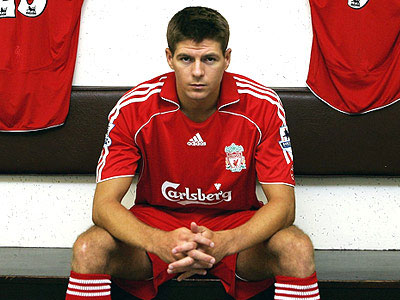 "Stevie was like us all — we all hurt," Rodgers said Friday when asked whether he'd needed to bolster his captain's morale this week.
"Obviously it was a big game. Steven played really well but he was just unfortunate to make the slip and Demba Ba went through and finished really well.
"Steven is a guy who has picked himself up over many years after disappointments and he will do it again.
"He's a really good man. I think it's been a bit over-analysed as well — the guy slipped, which can happen to anyone. Unfortunately it led to the goal and that was a big factor in the game.
"However, it happens and we move on," the Northern Irishman added.
The title picture will be clearer by the time Liverpool, bidding to be champions of England for the first time since winning the old First Division in 1990, kick-off at Crystal Palace on Monday.

– 'Everton are a great club' –
There have been suggestions Everton won't be at their best against City because a home win would mean they'd done Liverpool a good turn.
But with Roberto Martinez's men still in with a chance of a top-four finish and a place in next season's Champions League, Rodgers was confident City would be tested by the Toffees.
"City have a really tough game against Everton and I've read one or two bits about Everton not wanting to do Liverpool a favour," said Rodgers.
"Make no mistake, Everton in their own right are a great club who have done well this year, particularly at home, and they are fighting for a Champions League position.
"They have fantastic players who can get a result. Everton have their own reasons to do their own job. They won't need many more supporters than they already have.
"Of course Everton v Manchester City is a tough game and City have found it difficult there over the last number of years."
Rodgers added: "I think most people will look at us because we still have to do our job.
"For us the focus is on ourselves because we can't rely on anyone. We have to do our own job, and our job is to get three points at Crystal Palace.
"Anything other than that is not worth worrying about to be honest. I will focus on Liverpool and Liverpool only."