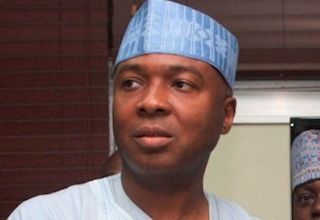 Senator Bukola Saraki on Monday disowned the campaign posters pasted in Abuja, indicating his interest in the 2015 presidential election.
Saraki, in a statement issued in Ilorin by his Personal Assistant, Bankole Omisore, dismissed an online report linking him with the bid.
He described the story as "totally false", and said those pasting his posters were "mischief makers" who were out to tarnish his reputation.
"We are all aware of the present political situation in Nigeria, but we are equally not surprised that these enemies of our nation have chosen this solemn time again to distract the country. This is not the time for politicking."
The senator restated his commitment to good governance, transparency, equity, fairness and justice, adding that he would continue to speak out on issues affecting the welfare and interest of Nigerians.