Stephen Oni, Ilorin
The Chairman, Senate Committee on Environment and Ecology,Dr Bukola Saraki, has applauded the decision of the
the federal government to accept foreign assistance to aid the release of the abducted school girls in Chibok,Borno State, noting that the decision was in tandem with his suggestion on the issue.
Saraki, in a statement by his media aide, Bankole Omishore, urged President Goodluck Jonathan to "take advantage of this opening to not only utilise the expertise and equipment from our friends and allies in bringing back the abducted girls – we must take this campaign a step further: we must take the fight right to the door steps and camps of the terrorists.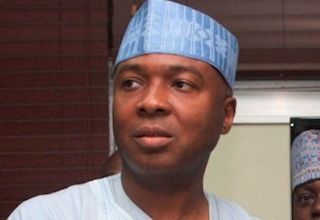 Also, the All Kwara Women Confederation, has called on the federal government to expedite action on freeing the Chibok girls.
The group coordinator,Hajia Bilqis Oladimeji, association said its members were deeply worried by the inability of the federal government to either trail the whereabouts of the girls or even update Nigerians with adequate information concerning its efforts on the rescue mission. While promising to pray along with fellow Nigerians and also do all that is humanly possible to assist in the search, the group asked President Goodluck Jonathan to mobilise all available resources in ensuring that the girls return home safely.
Saraki added: "Nigerians have shown that we will not be cowed by the evil of this insurgency. Our global commitment during this campaign to bring back our girls has demonstrated our combined keenness on preserving the unity of our nation. We must build on this – or we shall lose our new-found momentum.
"For too long, many of our fellow citizens have lived in a deplorable state of insecurity in the country. Too many lives of our loved ones have been cut short. Too many varieties of injuries have been sustained. Still, too many families have been torn apart by terrorism within our borders.
"But enough has become enough. It is time to end this insurgency once and for all. Regardless of politics, creed, or ethnicity, we must continue to give our Commander-in-Chief, our military, and all our security agencies our full support.
"I call on Mr. President to further entreat the support of the international community in ending the insurgency in the country for good.
"We must spell out in as clear as possible terms what our challenges are and have been so far in bringing an end to these extremists, and seek out the assistance of our friends and allies with the skills and tools to supplement our efforts, with clearly defined rules of engagement.
"With the help of the Almighty, and the knowledge that we are fighting a just cause: to rescue our nation from the clutches of terrorism – I have no doubt in my mind that we can win this struggle, and by so doing, leave a peaceful and more united Nigeria for our children and those that will come after".