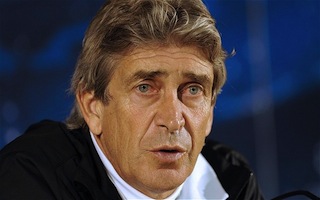 Manchester City manager Manuel Pellegrini said that his side would make deserving Premier League champions after they swept to the verge of glory by crushing Aston Villa 4-0.
City now require only a point at home to West Ham United on Sunday to secure the title, having taken their goal tally to 100 by vanquishing Villa with a second-half onslaught at the Etihad Stadium on Wednesday.
After an Edin Dzeko brace put City in command, substitute Stevan Jovetic added a third goal before Yaya Toure brought up the century in memorable fashion with a driving run from inside his own half.
"Now we can talk about the title, because if we win the next game we are going to win the title," Pellegrini said.
"I think it will be very important, not only the title, but in the way we are going to win the title, if finally we win it.
"I think we have a style of play, I think we are an attractive team, I think we score many goals and we are always thinking to score more goals.
"That to me has the same importance as winning the title. The way we play the whole season, I hope we will play the next game the same way. I am very happy to manage this team this way."
While nearest rivals Liverpool have themselves amassed 99 goals, third-place Chelsea — who can no longer win the title — have been criticised for adopting a reactive approach in their recent matches.
Pellegrini was wary of drawing comparisons with his side's rivals, but he said that he was proud that City have closed to within touching distance of the title by playing an effervescent brand of attacking football.
"There are different ways to win titles," said the Chilean, who would become the first non-European coach to win the Premier League.
"I choose this one, with attractive football, so that the fans enjoy the season. Maybe you can win titles other ways. For me, the aesthetic part is very important."
Toure's goal was his 20th of the season in the league and it was a fitting way to bring up the milestone, as the giant Ivorian drove through the heart of the Villa defence before spearing a shot past Brad Guzan.
"It's an amazing amount of goals," said Pellegrini.
"I'm very happy for Yaya because maybe when we started the season, and in the middle of the season, he had a lot of criticism because he didn't have as much power to arrive to the goal and mark (score).
"I think Yaya is absolutely the complete midfielder in the way he plays. We have a very good build-up with him, he scores goals, and he plays with freedom to do what he thinks is best."
City have only topped the table for 11 days this season, but Pellegrini explained the anomaly by pointing to the fact that they have been forced to play catch-up due to their commitments in other competitions.
"It is a strange season maybe, because we were never top of the table," he said.
"Everyone said we were favourites, but we were nine points behind Liverpool and eight points behind Chelsea.
"We had three games in hand, but we must win all those games. Now we are top of the table and I hope we are not going to lose next Sunday, but we must win the way we did today (Wednesday)."
Villa had already secured their Premier League status and manager Paul Lambert described steering the Birmingham club clear of relegation as "one of the greatest thing I've done in my time".
However, with American owner Randy Lerner due to issue a statement on his plans for the club in the coming days, Lambert admitted that his future at Villa Park is in the balance.
"I'll wait with bated breath for what the chairman will say," he said.
"He'll decide. I honestly don't know. He'll decide when he'll say it and what he's going to say and I'll respect whatever decision he makes."