Abiodun Onafuye/Abeokuta
The former governor of Ogun State and the National Leader of the All Progressives Congress (APC), Aremo Olusegun Osoba has met with the members of the party in the state, wrestling with Governor Ibikunle Amosun for control of the party's soul.
Osoba declared that the crisis in the party was a ploy to destroy him politically by the fifth columnists that rose against him in 2003. And he also debunked any plan of defecting from the APC to another party.
He stated this today during a consultative forum meeting of the party, held by the faction loyal to him at an open space beside his Ibara GRA residence in Abeokuta, the State capital.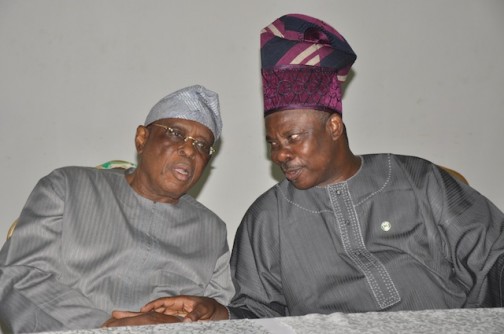 According to him, "This is the battle of 2003, eleven years ago. they have started again. The agenda of 2003 is still very much alive, and that agenda of 2003 was to destroy, rubbish and finish Osoba politically. The agenda was an agenda that was started in 2003 and the same pattern, the same root is being followed.
"I never knew it was a sin that I should forget and forgive what happened eleven years ago. I behaved like an elder, like a Christian and like a responsible person to have forgotten what happened in 2013. I preached peace and to forget anything anyone might have done since we are still alive, for eight years, the government of PDP never wanted us to live. I did not know it is an offence for me to forgive and forget and let us start afresh like brothers, I have no regret, because I have been deceived twice and will not allow that to happen again. I have seen so many things, and will never happen again", Osoba maintained.
The consultative forum had in attendance all the three Senators representing the State and the House of Representatives members from the State, who in turn addressed the crowd present at the gathering.
Osoba blamed Amosun for the division in the party and said he would have kept quiet if not because of some
misinformation going round, aimed at tarnishing his image.
"I decided to forgive and forget so that we can wrestle power back and I am grateful to all of you, 12,000 of you were employed as agents in 2011, we gave you only N2,000 as agent fees, this is just a chicken feed, but you did not compromise, you stood like rock of Gibraltar, we won the elections. Where are those 12,000 agents now?. If you are here, did you benefit anything from the government?
"This is what I was telling them, those people who worked for us on the field then were selected by the State and National Assembly members, and they have not benefited anything from the party. The matter on ground is not about using abusive languages, but ideas and intellect. Ideas, issues, intellect is what I want you to pursue.
"I have been a governor twice and on no circumstance should we denigrate, insult, abuse that chair or that office. We should respect the office of the governor, we must not abuse people again, and the matter has got to a stage where we will use intellect, experience, ideas, and issues and not to begin fight with others on issues.
"I have said all these for you to know that what they are saying about me are lies, how much would they give me to make for all that I have spent for the elections. How much can they pay back? I campaigned with my name and goodwill and they are now saying my mouth has been sealed but the mouth is opened now.
"A lot of misinformation was going round that I have been compromised, they said I have been bribed and I said how much could they pay back for the efforts of the people during the 2011 elections. Can we quantify that? what we are asking for is that the people who worked during the election should benefit. I beg all of you, no matter what
anybody says about me, just leave them for me, don't answer them, Awolowo was also abused and he said insults turn to honour, so, don't bother yourselves", he said.
Chief Osoba disclosed that he was inundated with phone calls from Nigeria while he was away in London that the Governor Ibikunle Amosun wanted to inaugurate the state executive of the party.
According to Osoba, the National Secretariat of the party had directed that all reports on the congresses should be forwarded to it for scrutiny before taking decision, noting that it is a national issue and not peculiar to Ogun State alone.
Osoba dismissed rumours that he was planning to join the PDP or the Labour party.
"The issue of defecting to PDP should be discarded. The idea of going to Labour Party should also be discarded, and we are going nowhere near PDP or Labour. Under no circumstances. We are progressives and we will continue to be progressive in our politics. All the options should be geared towards progressiveness, progressive politics all the
way, I am ready and not going back, even at the age of 75, and we will succeed together.
"We have to be cautious, but I appeal to you not to defect to anywhere, because both PDP and Labour party are one and the same and they are being used to destabilise South West. We will not be part of the destructive moves, at the appropriate time, we will consult on the way forward and God will be with us", he concluded.