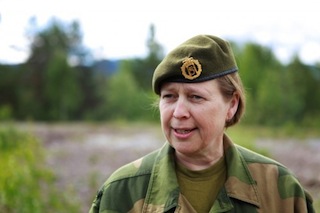 United Nations Secretary General Ban Ki-moon on Tuesday in New York, named Maj-.Gen. Kristin Lund, as the commander of the UN peacekeeping force in Cyprus.
The Norwegian commander, the first female to command a UN force, would take over the command with 930 soldiers and 66 police on 13 August.
Lund, 56, would replace Maj-. Gen, Chao Liu from China who has led the UN Peacekeeping Force in Cyprus (UNFICYP) since 2011.
Ban pays tribute to Liu's service with UNFICYP.
He said his dedication, professionalism and leadership greatly contributed to UN's stability.
"I congratulate Maj-Gen Kristin Lund on her appointment as the new Force Commander of our peacekeeping operation in Cyprus, and today, she makes history at the United Nations," he said.
Ban said in the six-and-a-half decades of UN peacekeeping operations, there has been scores of male force commanders but she was the first woman in that position.
Lund became the first female officer promoted to the rank of major general in Norway in 2009 when she was appointed Chief of Staff of the Norwegian Home Guard.
In 2014, she was appointed to the Norwegian Defence Staff as head of Veteran Affairs.
She was deployed to the UN in Lebanon in 1986 and was also involved with other UN missions.
The UN has maintained UNFICYP in Cyprus since 1964 after an outbreak of inter-communal tensions.