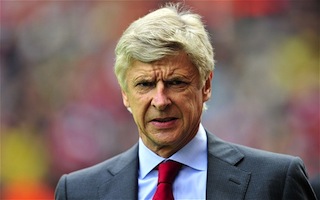 Arsenal manager Arsene Wenger on Wednesday expressed confidence that the pressure of the club's nine-year trophy drought will not derail his side in Saturday's FA Cup final against Hull City.
"You don't play with the history," he said. "You play with your quality and your desire to play well. It is an opportunity and we have to take a distance with time. We need to just turn up and play well."
Arsenal last won a trophy in 2005, when they beat Manchester United on penalties in the 2005 FA Cup final.
They have since lost two League Cup finals, in 2007 and 2011, and been beaten by Barcelona in the 2006 Champions League final.
"No matter what the result will be, this club — and this is always most important — can deal with the consequences of any game," Wenger added.
"What is important is that we come out of the game and have the feeling that we gave absolutely our best, our total energy to play at our best, and then you always accept the consequences.
"No matter how much we talk about it, you can win and lose, but you want to come out of the game feeling you have done the maximum to win and that is what we want to achieve."
Meanwhile, Wenger says that he is happy to field Bacary Sagna and Lukasz Fabianski in the final despite uncertainty over their futures.
The contracts of France right back Sagna and Poland goalkeeper Fabianski are due to expire shortly and both have rejected new deals from the club, but Wenger has no qualms about selecting them.
On Sagna's situation, Wenger told a press conference: "I told you many times that it's exactly the same as last week. The ball is in his camp and I cannot influence that."
Asked if he had any concerns about playing the 31-year-old, Wenger replied: "Not at all. I told you many times: for me a professional is to give your best until the last day of your contract.
"That's for me the real professional. I don't doubt his integrity, his desire to win and his commitment at all."
Fabianski has played in the domestic cup competitions for Arsenal this season, with countryman Wojciech Szczesny the first-choice goalkeeper for league and Champions League matches.
Despite reports that he, too, could leave the club during the close season, Wenger again dismissed suggestions that it would affect his focus.
"The answer is exactly the same," said the Frenchman. "Honestly, I have always acted like that because it would basically mean the guys are not professional.
"I have done that with Samir Nasri, with Robin van Persie, with everyone when I knew they left or had a good chance to leave. I always played them. If they deserve to play, they play."
Wenger reiterated his opinion that Jack Wilshere will be fully fit to take part in the World Cup with England, having been included in national coach Roy Hodgson's 23-man squad on Monday.
The 22-year-old midfielder made his comeback from a fractured foot in Arsenal's 2-0 season-ending win at Norwich City on Sunday, having been on the sidelines since early March.
"How has he been this week? Good, he works hard," said Wenger. "We have a hard session today (Wednesday) again and he progresses. He played 30 minutes at Norwich. That was planned, he came out well.
"I think if you ask me about the World Cup, he should just have enough time to be fully fit."
While Wilshere could start against Hull, Arsenal will give late fitness tests to fellow England midfielder Alex Oxlade-Chamberlain and Belgian club captain Thomas Vermaelen.