Okafor Ofiebor/Port Harcourt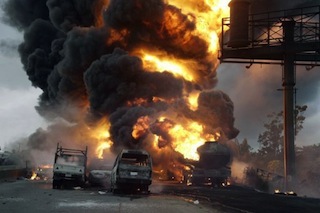 At least seven persons were confirmed to have been burnt to death while several others are seriously injured due to a fire explosion at a jetty operated by the Nigeria National Petroleum Corporation (NNPC), in Okrika, a suburb of Port Harcourt, Rivers State.
The Chairman of Okrika local government area, Hon. Tamuno Williams, who confirmed the incident and number of deaths in a chat with journalists, said the fire broke out when suspected vandals were siphoning oil from pipelines belonging to the NNPC, near the jetty.
"The fire incident is as a result of oil thieves who were siphoning oil from NNPC pipelines. As you can see, there is no management staff of the NNPC or persons you can say are in-charge of the corporations operations here. The gates of the NNPC remain closed to visitors, so, we have not seen anybody that we can officially complain to.
"I am speaking from the gate of the NNPC and I have been advised to come on Monday when the officials of the NNPC who are in-charge here will be on ground. The number of casualties cannot be properly ascertained as I speak due to the nature of the terrain, within and around the jetty.
The local Government Chairman berated NNPC management for always covering up accidents on their facilities. "Those who survived were said to have severely burnt. A lot of things are shrouded in secrecy. We have seen the fire but NNPC have not giving us permission to go in and verify the enormity of the damage. The security there is intensive, yet no NNPC staff wants to speak with us.
The council boss appealed to the management of NNPC to provide adequate protection and security for their pipelines and equipments.
"From what we saw, there is negligence on the part of the NNPC in the maintenance of their equipment. Their equipments and pipes are in a state of disrepair."
Those who suffered severe degree of burns have been taken to an undisclosed hospital for treatment.
The River State Police Command confirmed the incident saying the fire explosion was as a result of the activities of oil pipelines vandals.