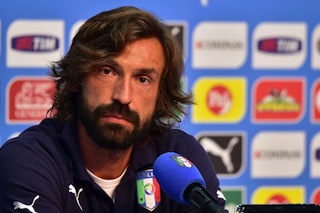 Italy's Andrea Pirlo confirmed Wednesday he will end his international career after the World Cup.
Pirlo helped steer Italy to the World Cup title in 2006 but has come to Brazil as part of a squad looking to erase the memory of a first-round exit from South Africa in 2010.
While announcing he had also extended his current deal with Serie A champions Juventus by two years, the 35-year-old said it was time to wind down his international career.
"I think I will stop after the World Cup," Pirlo told reporters on Wednesday, three days before Italy's opening Group D game against England in the Amazonian city of Manaus.
"I'm not getting any younger and you have to allow younger players to come through. It would be useless to keep on going."
Pirlo, considered one of the world's best in his deep-lying playmaking role, said he would "always be available" if called on by Italy, whose current coach is Cesare Prandelli.
But he added: "It could be problematic because I'd be annoyed if I wasn't selected, so it's best to stay home!"
The decision means Pirlo, who has made 109 appearances for Italy, will be able to see out his career with Juve, with whom he won a third consecutive scudetto last month having joined the Turin giants from AC Milan three years ago.
He extended his contract with the club by two years, adding: "I only signed it today because we had a few details to iron out, but we agreed in principle a long time ago."