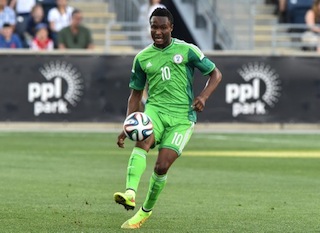 Chelsea midfielder John Mikel Obi believes Nigeria are on the right track to turn around a dismal recent record in World Cup finals and can build on their success as African champions.
The Super Eagles have played in five of the past six World Cups but after reaching the second round in 1994 and 1998, have taken just two points from their past six matches in the finals.
They come into the tournament on a high after winning last year's Africa Cup of Nations and boast the likes of Mikel, his Chelsea team-mate Victor Moses and forward Emmanuel Emenike.
"This is my first World Cup," Mikel said after a training session in Campinas, outside Sao Paulo. "I want to make sure we achieve something coming here. We don't just want to come and make up the numbers, we want to do well.
"I have to make sure I lead by example. We are all driving in the same direction. We all know what we want and hopefully we will have a good tournament."
Mikel said becoming African champions had given the side an injection of confidence as they prepare to take on the best teams in the world.
"We know we're the African champions and people expect us to do well, to represent the African continent," he said. "That's a bit more extra pressure but it's pressure that we love. We love to be African champions."
"We're doing well, we're doing everything we can. We're preparing well. Today the result in Spain against the Netherlands (5-1 victory for the Dutch) shows anything is possible so we have to make sure we approach games seriously and play well.
Moses, heading back to Chelsea after a loan spell at Liverpool, agreed that Nigerian football was on the up as the side prepare to play Iran in their Group F opener on Monday.
– 'Going in the right direction' –
"Things are going in the right direction for us at the moment," said Moses. "The younger lads won the under-17 World Cup and we won the Africa Nations last year so if we can bring the same determination that we did in the Africa Nations into this World Cup it will be very good for us."
But coach Stephen Keshi said he was anxious to forget about recent football triumphs and focus on the future as his side bids to become the first African World Cup winners.
"Things are going in the right direction but that's the past tense. We want that to stop. We need to focus on what is in front of us and we'll take it from there," he said.
And Keshi said football was a force for unity in the west African nation, struggling to cope with the threat from Boko Haram militants.
"Football is the one unifying force in Nigeria," he said. "The fans are so passionate so when they're playing you can't see anybody on the street."
This week officials in northeast Adamawa state announced the closure of all football viewing centres because of the threat of attack.
It came a week after 40 people were killed in an explosion at a football pitch, shortly after a match in the town of Mubi, in Adamawa state, which was blamed on Boko Haram.
The other teams in Group F are Bosnia and Argentina.