Uruguay striker Luis Suarez must leave the team's World Cup hotel following his four month ban from football activities for biting an opponent, FIFA said Thursday.
Football's governing body confirmed the order hours after it announced the ban, a nine match international suspension and a 100,000 Swiss franc fine.
Suarez, who bit Italian defender Giorgio Chiellini in their group game on Tuesday will not even be allowed into a stadium during the four months suspension, FIFA said.
Suarez was hit with a global four-month ban for biting an opponent on Thursday as World Cup chiefs imposed the heaviest sanction against a player in the tournament's history.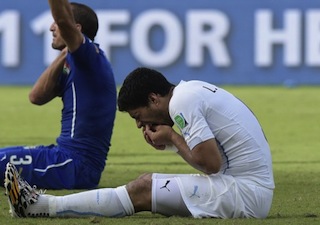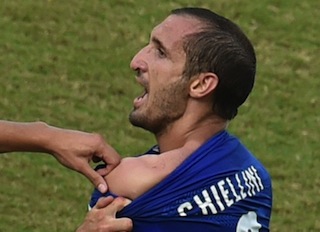 Suarez, who bit Italian defender Giorgio Chiellini during his team's Group D win on Tuesday, was kicked out of the tournament with immediate effect and fined 100,000 Swiss francs ($112,000).
"Such behaviour cannot be tolerated on any football pitch, and in particular not at a FIFA World Cup when the eyes of millions of people are on the stars on the field," FIFA Disciplinary Committee chief Claudio Sulser said.
Football's governing body imposed a four-month ban on all football activities, a nine-game international ban and the fine. The punishment took immediate effect, meaning Suarez misses Uruguay's second round match against Colombia on Saturday in Rio de Janeiro.
The ban from football activity prevents him from entering the stadium for Saturday's game.
It will also hit his club career with Liverpool in England's Premier League as he cannot play until the end of October.
The nine-match is also likely to rule Suarez out of Uruguay's defence of the Copa America in 2015.
The sanction was the toughest ever handed down for foul play at a World Cup, surpassing the eight-match ban against Italy's Mauro Tassotti in 1994 for elbowing Spain's Luis Enrique.
It is the third time Liverpool star Suarez has been banned for biting players following incidents in 2010 in the Dutch league and 2013 in England.
He also received a long ban in 2011 for racially abusing Manchester United's French international Patrice Evra.
Uruguay football officials, who insisted Suarez had not bitten anyone, said they planned to appeal, describing the punishment as "totally exaggerated."
The country's Sports Minister Liliam Kechichian also railed against the verdict. "This disproportionate sanction hurts us," she said on Twitter.
– Widespread revulsion –
But the speed and severity of FIFA's punishment reflected the widespread revulsion throughout the football world at an incident which was captured clearly on television footage.
FIFA had faced mounting calls to issue a heavy sanction given Suarez's previous disciplinary history.
Suarez's sponsor Adidas responded to the punishment by saying it "fully backs" FIFA's decision.
The company said it was dropping Suarez for all campaigns during the World Cup.
"We do not accept the recent behaviour of Luis Suarez and shall remind him of the high standards we expect of our players," an Adidas spokeswoman said.
Suarez was also ordered to leave his team's hotel after his accreditation was revoked. He was reported to be heading back to Montevideo.
On the pitch, Germany and the United States clinched their places in the last 16 at the expense of crisis-hit Ghana and Cristiano Ronaldo's Portugal.