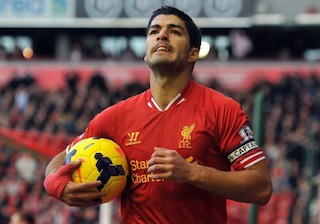 According to a Catalan television station, Liverpool and Barcelona are close to agreeing a deal for Luis Suarez.
The Catalan TV stations reported that a fee in the region of £63million was agreed with Suarez handed a five year deal that would make him their fourth highest paid player behind Lionel Messi, Neymar and Andres Iniesta.
Liverpool are continuing to negotiate though and want to establish whether there is a chance of signing Alexis Sanchez.
Sanchez has however said he will prefer a move to English rivals Arsenal with Manchester City and United also expressing interest, as well as Juventus.
Sanchez is expected to arrive Barcelona from Santiago, Chile to discuss the offers available to him.
An announcement on Suarez is expected with Barcelona hoping to break the news officially on Sunday.
Suarez could make a swift return to England with Barcelona due for pre-season training at the FA's St George's Park on 28 July, although Suarez will not be able to train under the restrictions of his four month ban.
Meanwhile, Luis Suárez would be allowed to have a medical before a transfer under the terms of his four-month ban for biting, Fifa's disciplinary chief has confirmed.
Claudio Sulser, the head of Fifa's disciplinary committee, said: "The player cannot have any activity related to football, but a medical examination for a transfer yes – the sanction is not linked to transfer rights."
Sulser added that the Suárez bite was "a very severe case" but that the sanctions – which also included a nine-match international ban and a £66,000 fine – were not to set an example, but for "justice".