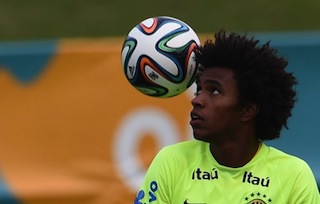 Willian and Bernard, the two leading contenders to replace Neymar in Brazil's World Cup semi-final line-up against Germany insisted on Sunday that the team can still win the competition without their star player.
"Neymar sets the standard for us. He is capable of deciding any game, so playing without him will be difficult," said Chelsea midfielder Willian.
"We know the quality that we have. We are all very sad at losing him but we are now even stronger after what happened and we can continue to pursue our dream."
Neymar's tournament ended in tears on Friday when he suffered a fractured vertebrae in his back after a crunching challenge from Juan Zuniga in the 2-1 quarter-final win against Colombia.
Willian, who has made all three of his appearances at this World Cup from the bench, picked up a knock in training on Saturday in a clash with Hernanes, but said that it will not prevent him from being ready against Germany.
However, he warned that fans should not expect him to act as a direct replacement for the Barcelona star.
"You can't compare Neymar with any other player. He has so much quality," he said.
"I have a different style even if we have some similarities, like my pace. Neymar is a forward, while I am more of a midfielder, someone who creates chances for others."
Coach Luiz Felipe Scolari could opt to hand a first start in the competition to diminutive Shakhtar Donetsk winger Bernard.
"We were all very sad at the situation and also because Neymar was very sad. Of course the whole group has felt his loss," said the 21-year-old.
"He is a big loss not just as a player but also as a person. He is always smiling and saying positive things."
The introducton of Willian or Bernard could see Oscar moving into a central role behind striker Fred, but Scolari has several options.
He could play with three central midfielders, maintaining Paulinho in the side while also welcoming back Luiz Gustavo after suspension.
– 'Special moment' –
"All of those who are here have ability and are capable of coming in and doing a good job," added Bernard, who nevertheless has extra incentive to win a start.
He hails from Belo Horizonte, where Tuesday's match will be played. and made his name at local club Atletico Mineiro, playing alongside Ronaldinho in the side that won the Copa Libertadores last year.
Bernard had a positive impact when he replaced Hulk in the second half of last year's 2-1 Confederations Cup semi-final win against Uruguay.
"It is a World Cup semi-final, a special moment," Bernard said. "But if I am not chosen we will have to agree with the coach."
Brazil have played six games without Neymar since 2010, winning five. Their solitary defeat was a 1-0 friendly loss away to France. The victories came against lesser opposition in Iran, Ukraine, Gabon, Egypt and Denmark.
At times during the World Cup, the hosts have appeared to be too dependent on the genius of Neymar, who scored four goals to help them through the group stage.
However, Brazilians can draw hope from the events of the 1962 World Cup, when their star man Pele withdrew injured in the group stage.
Amarildo took his place and scored three goals to help the Selecao retain the title, including one in the final victory against Czechoslovakia.
"Nobody ever expected that we could come to a situation like this, without Neymar," said Bernard.
"But there is still time. We will be able to adjust and find the best way to cope with the situation," he added.