Nnamdi Felix/Abuja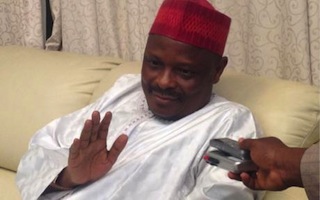 The Kano State Government on Tuesday secured leave from a federal high court siting in Abuja to institute an action seeking for a judicial review of the refusal of the Ministry of Finance and Petroleum Products Pricing Regulatory Agency, PPPRA, to disclose how much had been deducted from the state's statutory allocations since 2005 for the Petroleum Support Fund, PSF, in line with the provisions of the Freedom of Information Act.
Since its inception in 2005, the Petroleum Support Fund has been funded specifically by the 3 tiers of government in Nigeria through direct deduction from source.
The Kano State Government contend that since inception of the PSF, no account had been rendered to it in respect of the monies deducted from its statutory allocations as well as those of the 44 local governments in the state.
The PSF is a pool of funds from the national budget applied for the stabilization of domestic prices of petroleum products so that volatility in international crude oil and product prices would not altogether translate to wild swings of prices at the pumps.
The fund is the exclusive responsibility of the federal government even though all tiers of government in Nigeria contribute to the fund.
The Rabiu Musa Kwankwaso-led administration in Kano state had last April, through their lawyer, Mrs V. Awomolo, a senior advocate of Nigeria, written to the PPPRA requesting for a statement of account on Kano state's contribution to the Petroleum Support Fund but the PPPRA in its response, signed by Esuruose Oluwayemisi on behalf of the Executive Secretary, stated that it carries out the computation of products imported under the PSF scheme, process claims and forward to the finance ministry and the Debt Management Office, but denies having any information on the contribution of Kano state and its 44 local government areas to the PSF and directed the Kano state government to approach the finance ministry for such information.
In view of this, the Kano state government wrote the finance ministry requesting for the information but received no response from the ministry before approaching the court for leave to institute an action against the finance ministry and the PPPRA under the requirements of the Freedom of Information Act.
The trial judge, Justice Evoh Chukwu granted the ex parte motion empowering the Kano state government to institute the action that will compel the finance ministry and PPPRA to provide the requested information and adjourned hearing till 28 July.