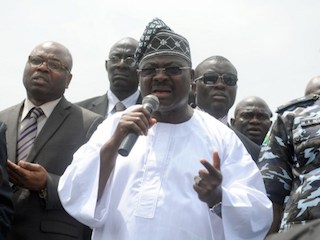 Governor Abiola Ajimobi of Oyo state on Wednesday in Ibadan pledged to respect the independence of the judiciary.
Ajimobi made the pledge at the swearing-in ceremony for the acting Chief Judge of the state, Justice Oladapo Abimbola.
"I have never and will never interfere with the independence of the judiciary in Oyo state because such practice contradicts the spirit of the rule of law.
"Judiciary is the last hope of the common man and it is on this note that Oyo State government places high premium on the independence of the judiciary," he said.
NAN reports that Abimbola was appointed to replace Justice Badejoko Adeniyi who recently retired from the service.
The governor urged Abimbola to dispense justice to all no matter the status. "I implore him to avoid double standard and refrain from delivering judgments that are conflicting.
"I am of the thinking that all positions are transient and we must be accountable for what we do in hell or in paradise."
Ajimobi also promised to support the judiciary in discharging its duties within the limit of the available resources.
Abimbola, who promised to be faithful in discharging his duties, said: "I will perform my functions honestly and abide with the code of conduct of the Federal Republic of Nigeria."
Born 14 January 1958, Abimbola hails from Saki in Oyo state and attended the then University of Ife between 1979 and 1982.
The ceremony was attended by Olalekan Alli, the Secretary to the State Government as well as other members of the State Executive Council.