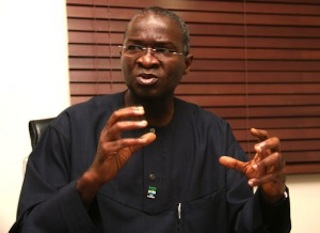 Governor Babatunde Fashola of Lagos State on Friday said it was wrong for people to believe that those who were infected with the Ebola virus would automatically die.
Fashola made the clarification during his inspection visit to the Isolation Ward for patients with Ebola symptoms at the Mainland Hospital, Yaba, Lagos.
According to him, the consequences of testing positive to the disease will depend on what is done and what is not done to save the lives of the victims.
The governor pointed out that there were reported cases of people recovering from the disease in other parts of West Africa, where the virus was endemic.
"Now from what the Centre for Disease Control told me yesterday there is no known cure for the virus, but if it is known and diagnosed early, patients can make full recovery because here you can give them very intense medical care.
"Some of these will involve managing their waste, managing their body fluids, giving them antibiotics and fluids to rehydrate their body and to ensure that their immune system is able to find a standing chance to combat and make full recovery as we have seen in some parts of Liberia and Sierra Leone."
He urged Lagos residents not to panic about the development but take the right precautions against the spread of the disease.
Fashola explained that reporting suspected cases to the right authorities, isolating patients and avoiding unprotected contacts with patients were some precautions that would help contain Ebola spread.
The governor explained that the creation of Isolation Wards at the hospital was part of measures by the State Government to bring the threat under control.
Fashola urged private hospitals to establish a first line of defence against the spread of the disease by taking precautions right from entry of patients and creating Isolation Wards.
"The private hospitals must isolate because we cannot do this alone. People are going to go to them sometimes before they are referred to us.
"So they must take the same precaution and defence and create isolation wards in their hospitals now for people they suspect might have the disease.
"They should monitor if they are all cleared, discharged and if they are not cleared, let us know immediately so that we can either come and pick or you move to us."
Fashola implored those having the virus to be courageous enough to report themselves for care and avoid close contacts with other people.
He urged residents to maintain good personal hygiene and environment as diseases thrived in dirty environments.
While commending the Nigerian Medical Association for suspending its strike to attend to the national emergency, he urged health workers to continue to do their best to contain the spread of the disease.