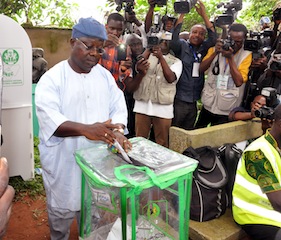 The Peoples Democratic Party (PDP) has rejected the outcome of the just concluded gubernatorial election in Osun state. The election was won by Rauf Aregbesola of the All Progressives Congress. He defeated PDP candidate Senator Iyiola Omisore by over 100,000 votes. Aregbesola polled 394,684 against Omisore's 292,747.
The party agent at the INEC collation of results Mr. Bola Ajao refused to endorse the summary sheets which indicates acceptance of the results, noting that his party had already forwarded their grievances to INEC.
"The candidate of my party, Senator. Iyiola Omisore will explore every necessary step in order to move forward," he said.
Omisore has since petitioned INEC over the just concluded gubernatorial election. The petition titled: Protest on the August 9, gubernatorial election said candidate of the APC, Rauf Aregbesola flouted provisions of the Electoral Act 2010 by announcing results.
The petition reads: "I hereby condemn the APC candidate , Raufu Aregbesola declaring his own version of the results without recourse to INEC. With the facts of results, its apparent that the PDP candidate , Dr. Iyiola Omisore is leading."
"This act of APC is in conflict with the provisions of Electoral Law 2010 whereby a candidate can concoct figures and released to confuse the public thus make this election inconclusive until facts behind the figures are released by the INEC.
"The peace and stability of this state is such under an unprecedented threat . The results so far by APC remained cancelled."