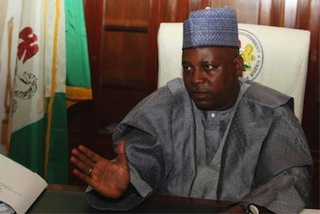 Deputy Governor of Borno, Alhaji Umar Zanna, on Friday said there was the need for closer cooperation among stakeholders in order to overcome insurgency in the country.
Zanna stated this in Gombe when he visited 1,600 Borno indigenes displaced by insurgents' attacks in Damboa Local Government Area of the state.
He commended Gombe State Government for providing shelter for the victims who escaped from the attack.
He informed the displaced persons that normalcy had returned to Damboa and neighbouring communities and assured them that the area would soon be safe for their return.
He told them that proper arrangement would be made for them to return to their communities and charged them to pray for peace in the state.
Zanna commended the people for conducting themselves in peacefully in Gombe where they were taking solace in a camp and assured them of Borno Government's assistance while they remained in the camp.
Deputy Governor of Gombe State, Tha'nda Rubaina, said that the state government had been responsible for the welfare of the Borno citizens since they arrived in the state.
"Borno and Gombe are brothers and we are willing to assist the people whenever the need arises," Rubaina said.