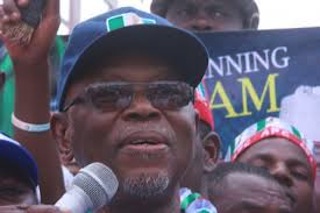 Chief John Oyegun, the National Chairman of the All Progressives Congress ( APC), says the party will transform Nigeria if elected into power in 2015.
Oyegun spoke on Monday in Sokoto at the inauguration of the North-West executive committee at a special rally.
"The party wants to ensure the complete transformation of the nation when elected into power at all levels during the forthcoming polls.
"This transformation will include the power sector, security, education, eradication of unemployment and poverty, among others," he added.
Oyegun commended Governor Aliyu Wamakko of Sokoto for transforming the state in the past seven years.
Wamakko and his Kano, Imo, Edo and Zamfara colleagues, said that the party was capable of bringing the desired change to Nigeria.
The governors also said, "Nigerians want change and to maximise the God-given potentials of the country.
"The APC governors and members across Nigeria are bonded by sheer vision and mission to effect change in the country," the governors added.
The Deputy National Chairman of the party, Sen. Lawal Shuaibu, said that the rally was the beginning of the crusade to bring the change Nigerians needed.
The state chairman of the party, Alhaji Bala Hassan, said that APC would emerge victorious in 2015 at levels in the country.
"The rally is a meeting of progressives who want to bring the desired change in Nigeria," Hassan said.
NAN reports that the highlight of the event was the inauguration of the north west executive committee members of the party by Oyegun.
The National Vice Chairman, North West , Alhaji Inuwa Abdulkadir, said that people in the zone would vote in APC at levels in 2015.
The rally was attended by the former Governors of Zamfara, Alhaji Ahmed Sani and Bayelsa, Mr Timipriye Sylva.

Load more