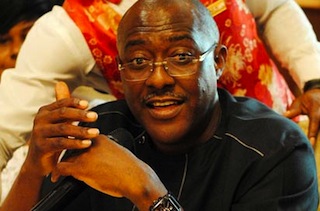 The Peoples Democratic Party (PDP) on Saturday in Abuja said that more members of the All Progress Congress (APC) were set to defect to its fold.
A statement issued by Mr Olisa Metuh, PDP's National Publicity Secretary, said two APC state governors and some members of the National Assembly would soon declare for the ruling party.
Metuh said the expected movement to the PDP was due to "bad image and anti-democratic stance" of APC leaders.
The statement criticised the APC for attempting to deceive Nigerians by issuing fabricated statements in the media on the recent visit of President Goodluck Jonathan to Chad.
It noted that the opposition party had presented former Borno governor Ali Modu Sheriff as being in Jonathan's entourage to Chad, "knowing same to be completely false".
The PDP spokesman also criticised the APC for "unfounded allegations" based on the purported claims made by an Australian, Mr Stephen Davis, on alleged sponsors of Boko Haram terrorists in Nigeria.
"We recall the shameful attempt to deceive Nigerians by accusing the PDP-led government of moving operatives of the Department of State Security (DSS) to terrorise the people of Osun state.
"In actual fact, the APC governor of Osun formally requested for their deployment ahead of the 9 August, governorship election.
"Also the APC, in June, issued a statement wherein it alleged that a plane carrying Kano Gov. Rabiu Kwankwaso to attend its rally in Ekiti was denied landing permission in Akure.
"Kwankwaso's Director of Press Affairs later announced that the governor was at another event in Kano and had no plans to travel to Ekiti state."
The statement further noted that the APC had earlier in the year raised alarm that federal lawmakers were being induced with millions of dollars to defect to the PDP.
Nigerians later discovered this to be false, the statement said, and advised the public to be alert to "the trend by the APC to resort to personal attacks on those who left its fold."
The PDP spokesman chronicled the personal attacks on Chief Tom Ikimi, former Gov Ibrahim Shekarau of Kano, his Sokoto counterpart, Attahiru Bafarawa and a former Aviation Minister, Femi Fani-Kayode.
The statement accused APC leaders of working against the national interest and "making themselves a laughing stock in the eyes of international community."
It recalled that the leadership of the opposition party visited the British House of Commons recently and were reported to have "concocted stories" detrimental to the country's image.
"This despicable trait must be dropped and should not transcend to fabricating destructive lies capable of tarnishing the image of our own dear nation," the statement stressed.

Load more