The rumour mongers can now take the back seat: Asiwaju Bola Ahmed Tinubu returned to Lagos, Nigeria Thursday night after a 5-week vacation outside the country, amidst rumours about his ill-health in the social media.
He told reporters on arrival: "I am solid, fit as a fiddle. I never needed Panadol except when I visited my friend, the dentist. I am glad to be back," he said.
Twice Wednesday, Tinubu, former governor of Lagos state and national leader of the All Progressives Congress tweeted reactions to several rumours about his health, describing them as fake.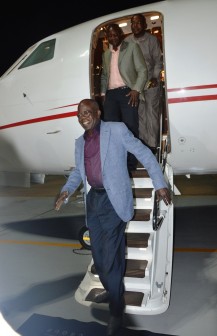 "The story about my health is the mother of all lies.Do not believe it. I was on my usual holidays. I thank all well wishers.I return soon". he said on his Twitter handle, @asiwajutinubu.
In a later tweet, Tinubu sought divine forgiveness to the rumour mongers. "May God forgive the rumour mongers b/c they do not know what they are doing. Those with evil thoughts towards me, God will guide them right."
Since Tinubu left the country after the Osun election late August, the internet has been flooded with all manners of stories about his health, with one story even saying affirmatively that he had lost all sense of cognition, and could no longer recognise friends and relations.
Some other stories said that Tinubu had suffered a serious stroke and has been hospitalised.
Several efforts by his aides and friends to stem the torrents of speculations have failed, with the stories re-emerging, with new lies and concoctions.

Load more