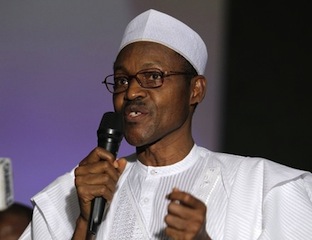 Former Head of State General Muhammadu Buhari on Tuesday called on his supporters to stay focused, shun insult and be ready to support anyone that emerges the All Progressives Congress presidential candidate.
Buhari who gave the advice in Abuja while addressing his 66 support groups that came under the umbrella of Buhari Support Centre, said the party will only thrive if it remains united.
"You must at all times remember that the APC is a party with several qualified people for each and all the positions that will be contested, including that of the president.
"It is the primaries that will determine who will eventually represent the party and in which capacity. If I get the nomination, I will expect you to redouble your effort and commitment until we clinch the presidency.
"In the event that it happens to be one of the other aspirants who win, I will expect you, as good party men, to extend to him your total support.
"We are a united party and united we shall remain because our strength lies in our unity," Buhari said.
According to him, whoever engages in any of the acts will be assumed to be working for the enemy. "I must warn all my supporters, volunteers and other well-wishers within the party or even out of it, not to insult or be rude to any other aspirant or party leader on my behalf.
"My supporters must not engage in any kind of behaviour or conduct that will tarnish the image of any leader or promote division and rancour within the ranks of the party.
"Whoever does that should know that he or she is working for the enemy," Buhari said.
The former leader further urged his supporters to be vigilant during and after elections and avoid taking laws into their hands. "In particular, you must learn to be vigilant especially just before, during and immediately after elections, whether elections are rigged or not," he said.
According to him, this is necessary so that sponsored hoodlums do not have chance to commit illegalities and in the end, members of the group are blamed.
"Not only must you not take the law into your hands no matter the level of provocation, you must be able to expose those planning to do so before the act," he said.
He said he would soon declare his presidential ambition on the platform of the APC, adding that party interest should be put above self interest.
The Director-General of the Centre, Umar Dembo, said it was "a department within the Buhari Campaign Organisation where all activities of the groups would be coordinated".
Also speaking, former President, National Association of Nigerian Students (NANS), Daniel Onje, urged members of the centre to eschew campaign of anarchy.
"I am a Christian and I refuse to believe in a campaign of anarchy. Contrary to insinuations, Buhari is a not a religious bigot.
"The appellation is the handiwork of those who want to continue to keep Nigeria down and divided.

Load more