Lagos State Governor, Babatunde Raji Fashola appeared miffed Wednesday over the claims by the Federal authorities of containing the spread of Ebola in the sprawling metropolis of 20 million people.
Without mentioning names and leaving little doubt about whom his arrows were pointed, Fashola in his valedictory October 1 speech, said he had heard stories emanating from campaign podiums with claims of conquering Ebola.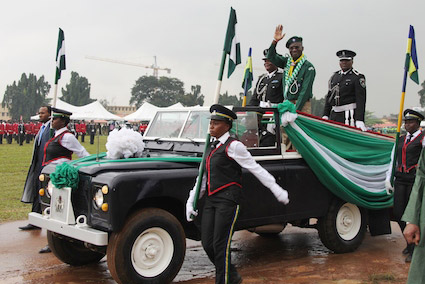 "The question we must ask is whether those who make these claims saw Ebola?", the governor asked and went on to attribute the achievement to 'heroic health workers'.
"Because of their service and heroism, we were able to declare Lagos State Ebola-free on the 18th of September, 2014…
"It is women like Stella Ameyo Adedevoh to whom such a claim rightly belongs.
"It is young Nigerians like Dr. Morris Ibeawuchi, who first made contact with the index case patient and continued to treat him who saw and conquered Ebola. He got infected, from doing his job, got sick, survived and is back to his job.
"It is first responders from the Lagos State Ministry of Health like Dr. Jide Idris, Dr. Yewande Adesina, Dr. Wale Ahmed, Dr. Kayode Oguntimehin who saw Ebola. They responded to the call from First Consultant Hospital. They spent 12 (Twelve) hours daily in the early days supervising the construction of Ebola containment facility when the epidemic broke. The Lagos State Infectious Disease Hospital which later became the epicenter of Ebola management used to house tuberculosis patients and patients with infectious diseases. Those patients vented their anger on these people when they had to be moved to create room for the Ebola centre. I know they spat at Dr. Adesina for doing her job.
"Dr. Abdul-Salam Nasidi of the National Disease Control Centre in Abuja saw and conquered Ebola. He helped in no small way to co-ordinate the containment.
"Dr. David Brett-Mayor of the World Health Organization saw and conquered Ebola. He single handedly started the Ebola isolation ward having cleared and cleaned the room. He admitted and cared for the patients before any Nigerian doctor joined him.
"Professor S. A. Omilabu, the dedicated virologist at LUTH, saw Ebola and conquered it. He coordinated the fault free testing for Ebola and managed all the samples professionally.
"Peter Adewuyi saw Ebola and conquered it. He led the contact tracing team of many dedicated officers for the first 2 (two) weeks.
"Mrs. Funmi Lagbokun, Mrs. Modupe Aiyedun Davies, Mrs. Basirat Adeoye, Ms F. O. Bamgboye, Mrs. K. O. Oshisanya, Mrs. Kazeem Abioye, Mrs. Abiola Lasaki and Mrs. K. Adeshina all saw and conquered Ebola.
"They were the dedicated team of nurses, nursing aid, care giver, health assistant and hygienist who commenced work voluntarily in the Ebola containment ward without any demand other than the sense of duty.
"Yemi Gbadegesin and Abdulsalam saw and conquered Ebola.
"They coordinated the de-contamination, removal and burial of the index case and other cases, and it is because of them that First Consultant can re-open for business.
"Dear Lagosians, these were the people who saw and defeated Ebola. Let no person tell you otherwise.
"These men and women, who showed courage, who risked their lives are our true champions and heroes.
"They showed the spirit of service, the spirit of Lagos and the spirit of our "good old days".
"Nobody should take this credit away from them.
"They are not celebrating because they know that the work is not finished. They are already working with our people and planning to volunteer to go and give help in Sierra Leone and Liberia.
"Their reward for hard work will be more work and they tell me that they are ready.
"You and I also know that Dr. Adaora Igonoh, Dr. Akinniyi Fadipe, Mr. Dennis Echelonu and Mrs. Kelechi Enemuo also saw Ebola and conquered it.
"They are the survivors whose stories you have read about. Whose anxiety we saw live, when they agreed to visit me in the office at the risk of stigmatization.
"At great personal discomfort, they stepped out and forward, to help you and I find our feet. To re-assure us that all was well.
"They saw and conquered Ebola.
"Businesses like First Consultant Hospital, and hotels that have suffered cancellations and yet have not laid off their staff are the heroes of our Ebola experience, and we all must rally round them in the spirit of Lagos to help them get back on their feet.
"Words will never be enough but bringing back those values they represent, will. This is the spirit that used to course through our veins; the spirit that made us the great nation that we are. And we can bring that spirit back. By changing our thinking."
Fashola also used the occasion to rouse the patriotic zeal in Lagosians, urging them to 'imbibe the Lagos spirit'
"How can you serve your country? I say, take the spirit of Lagos everywhere you go. From Badagry to Bayelsa; from Shomolu to Sokoto; from Epe to Ebonyi; Alimosho to Adamawa; from Lekki to Lafia; From Ikeja to Ijebu-Ode, all of us, Nigerians all should serve our country by changing our thinking and striving to give our best for collective benefit.
"By making a conscious determination to changing the way we act. We can serve our country by doing something good and positive in our homes, in our schools and in our communities.
"It doesn't matter how little it is. Together it makes a whole. We can serve our country by pledging in our hearts to restore, share and protect our communities, our States and our nation.
He disclosed that in the weeks and months ahead, Lagos will begin to celebrate ordinary Nigerians doing extra-ordinary things.
"And on a dedicated day in the near future we will come together to celebrate and honour our heroes, and hold them up as shining examples. Heroes recognised and chosen by you and I for the things they are doing for the benefit of others and the society at large without expectation of reward.
"Let the arm bands you are wearing be a constant reminder to change your thinking. We will distribute wrist bands all over Lagos and beyond. Wear them with pride but more importantly, let them remind you to act with integrity.

Load more