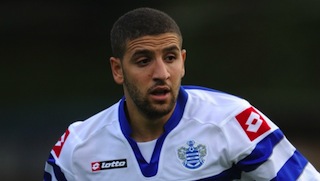 Queens Park Rangers chairman Tony Fernandes has told manager Harry Redknapp and Adel Taarabt to end their public spat over the forward's fitness.
Following Sunday's agonising 3-2 loss at home to Liverpool, Redknapp accused Taarabt of being "about three stone overweight" and so unfit to play for the west London club, currently bottom of the English Premier League table.
The 25-year-old Moroccan international — not even on the bench against Liverpool – hit back Tuesday by lifting his shirt for a newspaper interview to show off his slimline waist
"I am a professional — this is not about retaliation, this is about protecting my reputation," Taarabt told the Daily Mail.
"It's not true to say I'm not fit."
He insisted he was now 85 kilos (187 pounds), one kilo (2.2 pounds) below his maximum weight when on loan at Italian giants AC Milan last season.
However, Redknapp refused to let the matter lie on Tuesday, labelling Taarabt "the worst professional" he had come across and saying he had only lost weight because of a bout of tonsillitis.
But Malaysian businessman Fernandes tried to call a halt to the escalating war of words by saying, in a QPR statement issued Wednesday: "As a club, we are fully aware of stories in the press over the last few days regarding Harry Redknapp and Adel Taarabt.
"We regret these issues being played out in public and both Harry Redknapp and Adel Taarabt have been notified of our disappointment regarding their handling of the situation. I have spoken to them both personally.
"On behalf of the club, I would like to apologise to the QPR supporters for the embarrassment this has caused and confirm that the issue has been dealt with internally.
"The club's entire focus is now on the Aston Villa fixture next Monday and hopefully after a tough few days we can turn a negative into a positive and build on Sunday's improved display."
Redknapp, asked about Taarabt's injury status following the Liverpool loss, said: "I can't keep protecting people who don't want to run about and train, who are about three stone (42 pounds/19 kilos) overweight."
Redknapp demanded the Moroccan prove he was worth his weekly wage of about $100,000 (80,000 euros, £60,000).
"He played in a reserve team game the other day, and I could have run about more than he did.
"What am I supposed to keep saying, keep getting your 60, 70 grand (97,000-112,000 dollars) a week but don't train?"
Taarabt said 67-year-old English manager Redknapp was hardly ever at training.
"He spends most of the time in his office but when he gets off the phone he comes down to watch for five or 10 minutes — he never takes a session," Taarabt said.

Load more