Cyriacus Izuekwe
Two dogs that attacked a four-year old boy, Omonigho Abraham in the head at Akesan Estate, Igando area, earlier this month, will now be prosecuted along with their owner, Stanley Wesley at the Ejigbo Magistrate court, Lagos State Western Nigeria.
This follows the declaration by the Lagos State Commissioner of Police, Mr Cornelius Aderanti that only the courts will decide the fate of the dogs.
The owner of the dogs, Stanley Wesley had earlier been arrested and arraigned before the Ejigbo court and was remanded in prison custody over the attack.
P.M.NEWS gathered that since the two dogs will be presented to the court as exhibits by the police, the court will also determine the fate of the dogs during the trial as well as that of their owner.
The prosecutor, Mr Femi Adeleye has already sent the file of Wesley to DPP for advice because of the nature of the case involving the dogs.
Wesley was charged before Magistrate P.E.Nwaka at Ejigbo court with a count charge of negligence, for not confining the dogs. He was charged under the Criminal Code.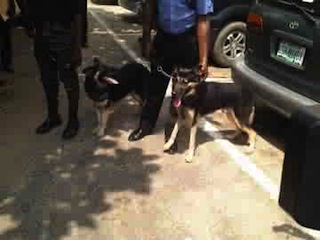 When he was arraigned, the prosecutor objected granting him bail on condition that the fate of the victim was not certain. The prosecutor also objected to his bail on the ground that the injury was serious and the file has to be sent to DPP for advice.
However, the court granted him bail in the sum of N300,000 with two sureties in like sum. The court also ordered that if the suspect meets the bail condition, he will be reporting to the court until the trial ends. He was remanded in prison custody pending when he will fulfill his bail condition and the matter was adjourned till 3 November 2014 for DPP advice.
Police command paraded the two dogs at its headquarters in Ikeja, Lagos State on Tuesday, adding that, the dogs had been medically examined and found to be rabies and Ebola-free.
Aderanti, said it was important to parade the dogs so as to dismiss insinuations that they had been released to the owner.
"We have brought the dogs out so that the public would know that they are still in police custody. They have been examined and show no negative trait. It is only the court that will decide what happens to them. The police cannot decide to kill the dogs," he said.
The police veterinary officer, Yahaya Usman, also told journalists that medical records show that the dogs had neither rabies or any other dog-related diseases.
Meanwhile the four-year old victim is still receiving treatment at the hospital where the Lagos State government has since taken over the cost of his treatment.

Load more