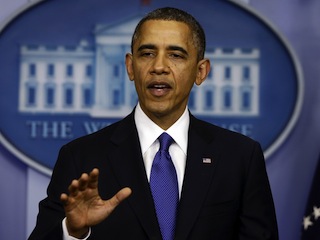 President Barack Obama told Americans Saturday that they must be "guided by the facts, not fear" when it comes to the deadly Ebola virus, as he urged a sensible vigilance.
"Patients can beat this disease. And we can beat this disease," Obama said in his weekly address to the nation, as he sought to reassure the Ebola-wary public that the disease does not spread easily.
The announcement came less than a week after the fiancee and almost 50 other people who had been in contact with a Liberian man, Thomas Eric Duncan, who died after becoming the first Ebola patient diagnosed in the United States, emerged from 21 days of quarantine with no signs of illness.
"In Dallas, dozens of family, friends and others who had been in close contact with the first patient, Mr Duncan, were declared free of Ebola — a reminder that this disease is actually very hard to catch," Obama said.
"Others being monitored — including health care workers who were most at risk — were also declared Ebola-free," Obama said.
Meanwhile two American nurses who contracted Ebola while caring for Duncan were declared cured Friday. One was healthy enough to leave the hospital and meet Obama for a hug.
The good news for the nurses came as the city of New York was dealing with its first case after an American doctor, Craig Spencer, was diagnosed with Ebola on Thursday after returning from Guinea, where he had helped tend the sick.
Obama said that New Yorkers had responded to the case correctly by continuing to "do what they do every day: jumping on buses, riding the subway, crowding into elevators, heading into work, gathering in parks."
"That's the spirit all of us can draw upon, as Americans, as we meet this challenge together," Obama said, adding that people "have to stay vigilant."
"We have to be guided by the science — we have to be guided by the facts, not fear," Obama said.
"It's important to remember that, of the seven Americans treated so far for Ebola — the five who contracted it in West Africa, plus the two nurses from Dallas — all seven have survived," Obama added.
The states of New York and New Jersey on Friday ordered a mandatory quarantine for medics who treated victims of Ebola in West Africa.
Nearly 4,900 people have died of Ebola so far this year, mainly in Liberia, Guinea and Sierra Leone.

Load more