Uganda's top badminton player, Edwin Ekiring, on Sunday emerged champion in the men's event of the Nigeria International Badminton Championship.
Ekiring defeated France's Arnaud Genin 3-2 to clinch the trophy at the tournament held in Gymnasium of Abuja National Stadium.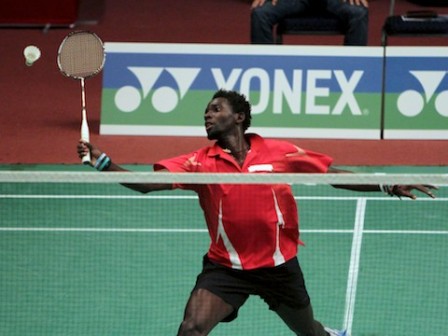 The championship, which is in its third edition, was organised by the Badminton Federation of Nigeria (BFN) in collaboration with Badminton World Federation (BWF).
Ekiring, who is currently ranked 22nd in Africa, raced to an early lead in the match, taking the first two sets 11-4, 11-7 before Genin fought back to win the third set 11-4.
Ekiring had on Saturday caused a major upset in the championships when he saw off Nigeria's Bulus Jinkam, former Africa's number one, with a 3-1 defeat in a quarterfinal encounter.
He overwhelmed Czech Republic's Milan Ludik 3-2 in the semi-finals before taking on Genin in the final.
In the men's doubles finals, it was an all-Nigerian affair as the pair of Jinkam and Ola Fagbemi saw off Enejoh Abah and Victor Makanju 3-1 to win the event's price.
Also, Nigeria's top player Jinkam combined with Susan Ideh to defeat the pair of Ola Fagbemi and Dorcas Adesokan 3-2 in the final of the mixed doubles event.
In the final of the women's singles event, Switzerland's Nicole Schaller edged out Nigeria's Grace Ijadare 3-2 to emerge champion.

Load more