LeBron James struggled as the New York Knicks spoiled his Cleveland homecoming, and the Los Angeles Clippers sneaked by Oklahoma City to begin their post-Donald Sterling era on Thursday night.
James returned to his roots but Carmelo Anthony stole the spotlight by scoring 25 points to lift the Knicks to a 95-90 win in the Cavaliers' 2014-15 season opener on Thursday night.
"My turnovers, some of them were careless and some of them were chemistry," James said. "I'm throwing passes where I was hoping some of my teammates would be.
"That is what is great about this league. You can play as bad as I did tonight and then bounce back. It was a learning experience."
In the late game, the Clippers edged the short-handed Thunder 93-90 to begin the Steve Ballmer ownership era.
James' long anticipated return to his roots didn't go as hoped. He shot just five-of-15 and committed eight turnovers in his first game back in a Cavaliers' jersey after winning two NBA titles with the Miami Heat.
But the season is just getting started and James has plenty of time to adjust to his new teammates, including Kevin Love, who was acquired in a blockbustre trade with the Minnesota Timberwolves.
James said the excitement of returning to his hometown got the best of him.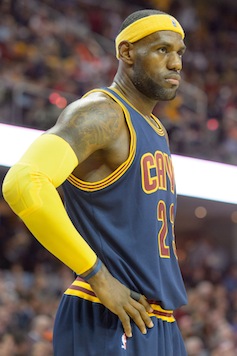 "It was a huge night," said James. "It was exciting for the fans, exciting for the city. Now we can just play regular basketball."
Love finished with 19 points and 14 rebounds in his first game with the Cavaliers, while returning star Kyrie Irving led the way with 22 points and seven assists.
"I thought we came out with energy and we started well," Cavaliers coach David Blatt said. "We got stagnant, without question. We're good when we move the ball."
After spending seven seasons in Ohio, the four-time MVP James left his home state for the Heat following the 2009-10 season. He led Miami to four straight championship appearances, winning two, before signing with Cleveland this offseason.
James guided Cleveland to a NBA finals loss and won back-to-back MVP awards. Cleveland has not enjoyed a major US sports title since 1964, but James is hoping to change that and made that part of the platform for his return.
On Thursday, James finished with 17 points, five rebounds and four assists before a raucous crowd of 20,562 at Quicken Loans Arena.
Cleveland has just two wins in eight season openers with James in the lineup.
The Knicks re-signed Anthony to a maximum contract this summer with the hope he can lead them into the playoffs. They also added basketball guru Phil Jackson to the front office and he brought in new coach Derek Fisher.
Blake Griffin showed off an improved jump shot en route to 23 points and Chris Paul tallied 22 with seven assists as the Clippers beat the Thunder, who were missing reigning MVP Kevin Durant.
The Clippers are now on solid ground with Ballmer as the new owner. The on-court product is set with Paul and Griffin, both of whom finished in the top five in MVP voting last season.
– 'Build an identity' –
"We got to build an identity," Paul said. "We got some new faces. It is all about playing the right way."
Ex-Microsoft chief executive Ballmer bought the Clippers for $2 billion after former owner Sterling was caught on tape making racially-insensitive remarks. The Sterling fiasco took place during last season's Clippers' playoff run, one that ended with a Western Conference semi-final loss to the Thunder.
Ballmer sat courtside Thursday cheering every Clipper basket and then visited the team in the locker room after the game, thanking them for their effort.
"It is nice to get the win in front of the new owner," said Paul.
The Thunder lost guard Russell Westbrook in the second quarter on Thursday with a fractured hand. Durant did not play because he is still recovering from foot surgery. Durant is expected to miss the early part of the season but it is unknown how much time Westbrook will be out.
"It is nice get a win against that team but we know they were missing their best players," Paul said.

Load more