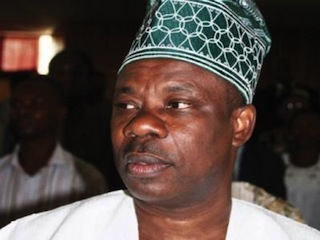 Another Senior Special Assistant to Ogun state governor, Ibikunle Amosun has resigned his appointment.
Otunba Abayomi Odunowo, handed his resignation in today at Abeokuta. He was until yesterday, the SSA in the Ministry of Environment.
In the resignation letter dated 31st October, 2014 and addressed to the Secretary to the State Government, Barr Taiwo Adeoluwa, the former SSA said he would rather not say why he resigned for now.
The letter however hinted that the resignation would avail him the opportunity that has presented itself.
The letter read in parts,"This is to inform you that an opportunity has presented itself that will enable me to work in the area of my stated preference.
"I believe the reasons leading to this decision are known to you and I will therefore leave them unsaid at this time.
"I am therefore tendering my resignation letter and I wish to inform you that 5th November 2014, will be my last day in employment," Odunowo said in his letter.
The son of celebrity woman popularly called Cash Madam went further to thank the governor for the opportunity given to him to serve, calling it a 'truly outstanding experience'.
"I would like to thank you for the experience of having worked for Ogun State government, a truly outstanding experience and offer my best wishes for your continued success,"he stated.
Odunowo, in a telephone chat with our correspondent however said he resigned to pursue his senatorial ambition saying he wants to effect change for the people of Ogun East.
"I resigned to commit myself to a course I believe in. I have a vision of how things should run. Our's is democracy with lots of challenges.
"Talk of poverty, executive lawlessness, insecurity and all. If you are appointed, there is very little you can effect. If you have an idea of how things should be done, you try to advance it for the good of all. But if the person elected is clueless, you can't blame him. We all have limitations.
"I believe I will better serve my people if I run for elective position. I am ready for that, hence my resignation," Odunowo revealed.

Load more