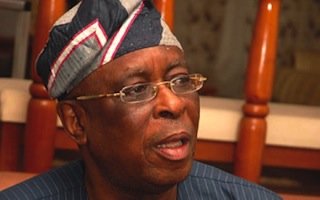 The All Progressives Congress (APC) has said it would not be shaken by the defection of one of its party leaders in Ogun state. The party said it would not lose sleep over the abandonment of the party by the Olusegun Osoba group for the Social Democratic Party.
It would be recalled that Osoba and Ogun governor, Ibikunle Amosun have endured a rocky relationship in the last few months. The relationship between the duo hit the rocks following a disagreement on power sharing formula in the state. Osoba had claimed that Amosun wanted total control of the party, making him a figure head in the state politics.
In a statement issued in Abuja on Thursday by its National Publicity Secretary, Alhaji Lai Mohammed, the party said it was surprised by Osoba's switch, noting that, the surprise stemmed from the fact that efforts are ongoing to reconcile the aggrieved members in the Ogun State Chapter, hence it was expected that they will give room for the efforts to yield fruits.
It expressed the hope that the defecting party members will reconsider their decision and beat a quick retreat.
"Yes, the defection of some our members will create some challenges for our party, but we will go back to the drawing board to re-strategize and redouble our efforts to retain the state in 2015.
"Every member of our party is important to its overall success, but none is more important than the party. Against this background, no member can hold the party into ransom," it said.
APC said it is a mere fallacy for anyone to conclude that the defection of some members, irrespective of their self importance, will dramatically alter the chances of the party in 2015, and therefore urged its members in Ogun State not to lose any sleep over the latest development.

Load more