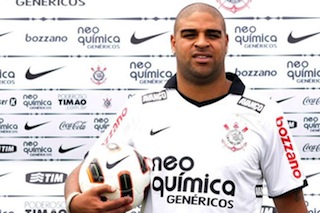 A Rio de Janeiro judge has dismissed charges laid against former Brazilian international Adriano that accused him of involvement with drug-traffickers, a court spokesman told AFP Friday.
The former Inter Milan, Fiorentina, Parma and Roma striker, 32, who is trying to revive his career in France, was charged Tuesday with buying two motorbikes between 2008 and 2009 that were later used by drug dealers in Rio's Vila Cruzeiro favela, where he grew up.
Judge Maria Tereza Donatti threw out the charge, partly because of evidence irregularities.
Sources in the prosecutor's office in Rio de Janeiro told AFP that attorneys will appeal the ruling.
In a statement, the former international, who scored 27 goals in 48 appearances for Brazil, said he had never been worried.
"I knew everything would be okay… I'm honest, I pay my taxes and I'm proud of my origins," he said.
He faced up to 15 years in prison if found guilty.
Adriano's last contract, with Atletico Paranaense, was terminated six months ago after he missed several training sessions.

Load more