Jamiu Yisa
The Speaker of the House of Representatives, Aminu Waziri Tambuwal, will Monday pick the expression of interest and nomination forms of the All Progressives Congress,  APC, to run for the presidency of the country, barring other contingencies.
P.M.NEWS learnt exclusively that Tambuwal has received the support of his colleagues in the House who are solidly backing him because of his young age.
The Speaker, who is still battling to get his security details back after they were withdrawn illegally by the Inspector General of Police, Suleiman Abba following his defection from the Peoples Democratic Party, PDP, to the APC, will pick the forms at the Abuja national headquarters of his new party.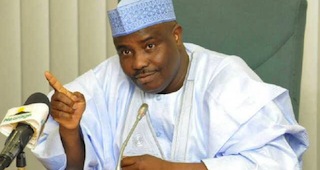 Already, his colleagues, especially those in the APC, who are currently on recess, have started returning to Abuja to give him moral support.
Tambuwal's entrance into the presidential race will increase the number of presidential hopefuls in the APC to five: former Head of State, General Muhammad Buhari; former Vice President, Alhaji Atiku Abubakar; Chairman of Leadership Newspapers, Sam Nda-Isiah; and current Governor of Kano State, Alhaji Rabiu Musa Kwankwaso, have already picked their nomination and expression of interest forms to run for the presidency on the platform of APC.
P.M.NEWS reliably gathered that the leaders of APC in settling for Tambuwal considered the fact that his integrity will sway the support of Nigerians in his favour in the presidential election.
It was also learnt that those rooting for Tambuwal in APC were of the opinion that his pedigree stands him in good stead over aspirants of other political parties in the presidential election.
Sources revealed that APC leaders were persuaded by the independent disposition of Tambuwal in the management of the affairs of the House, particularly his courage to shun the interference of the leadership of PDP and the Presidency.
"The leaders of APC have settled for the Speaker of the House of Representatives, Alhaji Aminu Tambuwal as the party's presidential candidate in the 2015 election. Although the decision is not public yet, there is a consensus of opinion by our leaders that the Speaker (Tambuwal) be allowed to fly the flag of the party in the presidential election.
"In deciding on Tambuwal, his originality and independence in the handling of the affairs of the House were taken into consideration. Nigerians are impressed that Tambuwal shunned entreaties by the leadership of PDP and the Presidency to make the House an appendage of the executive arm of government.
"The Speaker has no doubt endeared himself to a lot of Nigerians by his sterling leadership qualities and APC believes that such qualities are required from any Nigerian aspiring for the highest political office in the country," the source added.

Load more