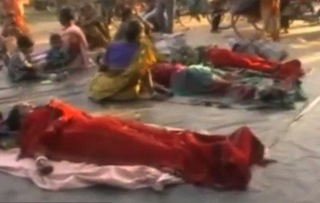 Eight women have died in India and dozens more are in a critical condition after a state-run sterilisation programme designed to control the country's billion-plus population went badly wrong.
More than 60 women are in hospital after suffering complications from the surgery over the weekend and 24 of them are seriously ill, authorities in the central state of Chhattisgarh said Tuesday.
"Reports of a drop in pulse, vomiting and other ailments started pouring in on Monday from the women who underwent surgery," said Sonmani Borah, the commissioner for Bilaspur district where the camp was held.
"Since Monday, eight women have died and 64 are in various hospitals," he told AFP by telephone.
The government would investigate what went wrong, he added, as angry residents took to the streets of Bilaspur on Tuesday to demand immediate action against the doctors.
State governments in India frequently organise mass sterilisation camps under a national programme whereby women are given 1,400 rupees ($23) as an incentive to undergo the procedure.
Under pressure to meet targets, some local governments also offer other incentives such as cars and electrical goods to couples volunteering for sterilisation.
Although the surgery is voluntary, rights groups say the target-driven nature of the programme has led to women being coerced into being sterilised, often in inadequate medical facilities.
Last year, authorities in eastern India came under fire after a news channel unearthed footage showing scores of women dumped unconscious in a field following a mass sterilisation.
The women had all undergone the procedure at a hospital that local officials said was not equipped to accommodate such a large number of patients.
The Indian Express daily said the surgeries in Chhattisgarh were carried out by one doctor and his assistant in around five hours.
"There was no negligence. He is a senior doctor. We will probe (the incident)," the chief medical officer of Bilaspur R.K. Bhange told the newspaper.
The medical superintendent of the main hospital in Bilaspur where many women were admitted said it was difficult to say what could have caused the deaths.
"It would be premature to speculate on the reasons for this tragedy. We are giving priority to treating the woman admitted here as their blood pressure has gone down," Ramnesh Murthy told reporters late Monday.
"We will know the reasons only once the post-mortem is completed."
A 2012 report by Human Rights Watch urged the government to set up an independent grievance redress system to allow people to report coercion and poor quality services at sterilisation centres.
It also said the government should prioritise training for male government workers to provide men with information and counselling about contraceptive choices, but despite the recommendations to the national government, problems persist on the ground.
India's family planning programme has traditionally focused on women, and experts say that male sterilisation is still not accepted socially.
Government figures from 2008 shows that around one third of the 54 percent of the population that reported using any form of family planning opted for female sterilisation.

Load more