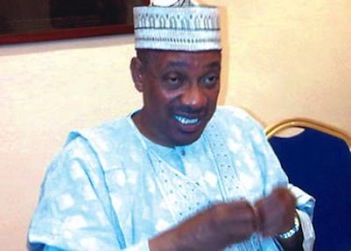 Dr Abdul Jhalil Tafawa Balewa of PDP, on Friday in Abuja said he had not withdrawn from the 2015 presidential race as being speculated.
He made this known to newsmen at the PDP national headquarters after submitting his Nomination and Expression of Interest Forms to contest the election.
The aspirant, son of late first Prime Minister of Nigerian, Alhaji Tafawa Balewa, obtained the forms after the National Executive Committee (NEC) of PDP had endorsed President Goodluck Jonathan as sole presidential candidate.
The PDP NEC, its highest decision making organ, endorsed President Jonathan after the PDP Governors Forum and other organs of the party adopted him as their candidate for the election.
Balewa was initially speculated to have jettisoned his ambition after alleged due consultation and a visit to Ijaw leader, Chief Edwin Clark.
But in a dramatic turn of event, Balewa denied his withdrawal from the race for the PDP presidential ticket, saying: "I have never withdrawn from the race, there was no agreement with Chief Edwin Clark.
"I went to Baba Clark's press briefing, and was asked a question and I responded that I have nothing to say, because it was Clark's briefing", he said.
Balewa, however, disagreed that he was being sponsored as a spoiler allegedly playing the script of a certain group of people as was being speculated.
"I am truly a Nigerian and I will not denigrate this country," he stressed.
The aspirant added that his constituency was the 180million Nigerians he seeks to represent, not a clique of persons.
Belewa said he had submitted his forms to the party's National Organising Secretary, Alhaji Abubakar Mustapha, to contest in the PDP electoral process ahead of the 2015 presidential election.
NAN reports that the PDP formally closed the return of completed nomination and expression of interest forms for 2015 general elections by aspirants on Nov. 14.

Load more