Eromosele Ebhomele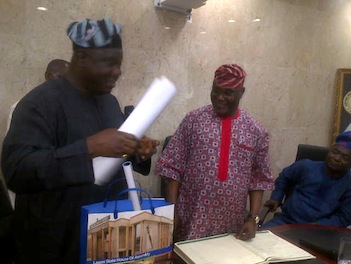 Nigeria's former vice president, Atiku Abubakar has advocated the setting up of an independent body to oversee the recruitment and appointment of staff and officials of the country's Independent National Electoral Commission, INEC, as a means of strengthening the commission and making it truly independent.
Atiku, an aspirant for the position of president on the platform of the All Progressives Congress, APC, was a guest of the Lagos State House of Assembly on Friday evening ostensibly to solicit the support of the lawmakers towards becoming the party's candidate when APC holds its primaries in December.
Atiku, who scored INEC low in the distribution of the Permanent Voters Cards that held recently across some states of the federation, said the failure of the commission shows that it is not as independent as Nigerians would want it to be.
"Obviously I will not rate INEC positively because I have always believed the INEC is not an independent body.
"Everybody in INEC, from top to bottom, is appointed by the ruling party. So how can it be independent? I think for us to have an independent INEC, we must also have an independent body to appoint officials.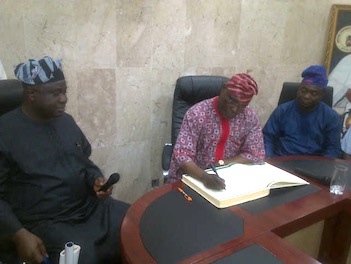 "Today, INEC cannot be independent and my brother, Asiwaju (Bola Tinubu) has described it as having merged with the PDP. So I don't believe the PVC exercise is being conducted efficiently and in an independent manner because there are so many lapses that have trailed the issuance of the PVC," he told journalists late Friday after a closed-door meeting with the lawmakers, a meeting which Speaker Adeyemi Ikuforiji described as a discussion between a father and his children.
Concerning the Boko Haram insurgency, Atiku said the government had consistently failed in the five years that the sect had held the country hostage.
He commended the hunters and vigilantes who took up the challenge against the sect and won two of the seized local governments.
According to him, the sect is not an invisible group, "unfortunately, the Armed Forces has failed to curtail it. So we have to defend ourselves."
While welcoming other Nigerians who are interested in the seat of the President in the 2015 election under his party, Atiku also praised the APC for acting responsibly concerning the issue of a consensus candidate for the party.
He noted that a consensus candidate cannot be forced on other aspirants except with their agreement adding that this was why the APC asked that aspirants explore the option of consensus themselves and that if they did not find it workable, then they would be subjected to primaries.
Atiku said if he becomes president in 2015, he would ensure that the change Nigerians would see would be one that is physical and which they could feel rather than the propaganda that plays out on television adverts, radio and newspapers that calls President Goodluck Jonathan the best President.
Load more