Jethro Ibileke/Benin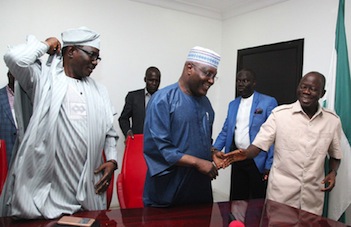 Former Nigerian Vice President, Alhaji Atiku Abubakar, Wednesday, stormed Benin City, Edo state to interact with Governor Adams Oshiomhole and leaders of the All Progressives Congress in the state to support his ambition to secure the presidential ticket of the party.
Oshiomhole who received the former Vice President at his office expressed hope that the APC would put its internal issues in order ahead of the 2015 general elections so as to provide Nigerians with an opportunity to enjoy a new approach to politics and governance.
According to him, "It is my hope and prayer that our party, over the next few weeks, would sort out all issues that we need to sort out so that Nigerians will have the opportunity to enjoy a new approach to politics and governance based on issues and pedigree of individuals so that we can move away from politics of religion, ethnicity and other pedestrian interests."
"That is what APC is bringing to the table and I am very anxious that we get to that stage so that Nigeria will move away from this present stage to making life more meaningful for Nigerians. We cannot continue with this ridiculous catch-phrase of 'business as usual' as Nigerians are anxious to have a change so that we can start a new chapter without being detained with the failures of the recent past.
"We want to thank you for the honour you have done to me. We have had a very robust engagement and I know you have the capacity to deal with conflicting issues.
"Let me also thank you sir for honouring our invitation to our 6th Anniversary celebrations, last week despite the very short notice and your presence did not only add colour, your statements also helped to sharpen the issues that are involved in this season of electioneering."
Alhaji Atiku Abubakar said he was in Benin to have an audience with the governor as well as interact with party faithful in the state.
"I am here this morning to have an audience with you and also to interact with party faithful in the state and I want to thank you for this opportunity and I hope we will make the best use of the day in Edo today."
He later told reporters that he was in Benin to meet with party delegates and executives and to seek their support for his presidential ambition.
Abubakar already has the endorsement of APC members in Adamawa state for the party's primaries on 10 December.

Load more