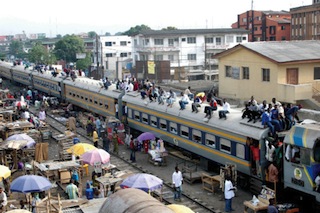 The Federal Government on Wednesday approved a N272 million contract for consultancy services for the feasibility study and conceptual design of Lots Four, Five, and Six of the Abuja Rail Mass Transit System.
This was the outcome of the Federal Executive Council (FEC) meeting presided over by President Goodluck Jonathan at the Council Chamber of the Presidential Villa, Abuja.
The Supervising Minister of Information, Mr Nurudeen Mohammed, who briefed State House correspondents at the end of the meeting, said the contract was awarded to Ladiom Associates with a completion period of 12 months.
"The Federal Capital Territory Rail Mass Transit system is designed primarily as a mover of people within and between the satellite towns and the different phases of the city.
"There is a provision of N280 million in the 2014 FCT Statutory Appropriation for the project.
"The projects, upon completion, will reduce traffic congestion, shorten journey distance and reduce pressure on existing public transport services.
"The project will also provide employment opportunities to about 5,000 skilled and unskilled workers, while about 4,500 skilled workers will be engaged in the direct operation of the system on completion."
The supervising minister said the FCT Rail Mass Transit System would be integrated with the planned national rail network.
The Minister of the Federal Capital Territory, Mr Bala Mohammed, who also briefed newsmen, said that everything about the project was on course in terms of the financial plan.
"Lot Four will carry passengers from Kuje to Karshi; Lot 5 from Kubwa to Bwari because there must be some provision for crisscrossing of commuters within the city.
"Lot 6 will carry people from the airport to Kuje and Gwagwalada up to Dobi, a satellite town that is far off Gwagwalada. That will complete the feasibility studies that we are set to do.
"You are aware we are executing the Lots One and Three and we have gone 60 per cent. Everything about the project is on course in terms of the financial plan.
"What we are doing now is to start building the stations – 13 in number – that are going to be used by the passengers. So, everything about the light rail is on course.
"Lot Two is the most viable one. Already, we have gotten expression of interest from the organised private sector to do it, which is very significant to us as a government as a mark of confidence shown in Nigeria and in Abuja because it is a bankable project and the passengers are there because it is going to provide rail transportation from Nyanya to the city centre up to Kubwa.
"In fact they (investors) are struggling for that.
"For the Lots Four, Five and Six, that is why we are doing the feasibility study. We want to run away from the previous practice where contracts were awarded on the basis of conceptual design.
"This time around, we are coming with the engineering design and the bill of quantities before we go to tender."
Load more