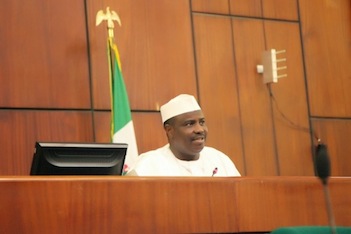 Mike Ozekhome, a Senior Advocate of Nigeria (SAN), on Thursday called on Alhaji Aminu Tambuwal, Speaker, House of Representatives, to resign for peace to reign in the legislature.
Ozekhome, a constitutional lawyer, said this in an interview with NAN while reacting to the lawmakers' fracas which culminated in Thursday's shut down of the national Assembly.
NAN reports that Senate President David Mark on Thursday announced the suspension of National Assembly plenaries until Tuesday, following the reconvening of House of Representatives.
The lower chamber reconvened on Thursday to discuss President Goodluck Jonathan's request for the extension of the State of Emergency in the three North-East states of Adamawa, Borno and Yobe.
NAN reports that security operatives barricaded the entrance in an attempt to prevent Tambuwal access to the hallowed chamber, leading to a commotion and the fearing of tear gas.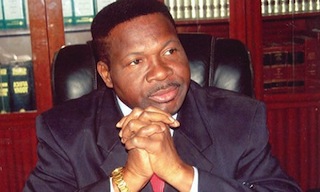 Ozekhome said that the undercurrent of the entire episode was that some lawmakers must have felt that the reconvening of the House would lead to Tambuwal's impeachment by his opponents.
This, he said, could have informed their desperate attempt to get to the chambers by climbing the National Assembly gate and fence when it was closed against them to forestall the impending fracas.
"My advice is that Tambuwal should honourably and voluntarily resign as Speaker of the House of Representatives in order for peace to reign in the National Assembly.
"Having defected from the political party on which platform he got to the National Assembly and became the Speaker, he should stop his present grandstanding because he cannot have his cake and eat it.
"Whether the courts have declared his seat vacant or not, whether he has been impeached or not, and whether it is constitutional for him to do so or not, he owes a moral obligation to resign now.
Ozekhome said that the Senate President did the right thing by suspending plenary till Tuesday next week so that the tension would calm down.
"The Senate President, by virtue of Section 53 (2) of the Nigerian Constitution, is the Chairman of the National Assembly and so is empowered to regulate the legislature which is bicameral.'"
He condemned the action of lawmakers who climbed the fence to get into the premises of the National Assembly complex.
The senior advocate said that what those lawmakers did smacked of 'indecency, indecorum and, above all, very shameful in the eyes of those who elected them and the international community.
Load more