Okafor Ofiebor/Port Harcourt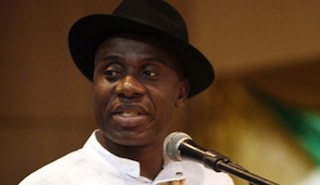 The Peoples Democratic Party, PDP, has called for the arrest and investigation of Governor Chibuike Amaechi for treasonable felony for threatening that if All Progressive Congress, APC, is rigged out in the forthcoming election it would form a parallel government.
In a statement issued by the Rivers state chapter of the party, it said Governor Chibuike Amaechi should be cautioned because his statement could incite needless crisis not only in the state but also across the nation.
The party through a statement by its chairman, Felix Obuah and signed by his Media Adviser, Jerry Needam urged the police particularly as well as other law enforcement agencies to investigate, and possibly invite Amaechi for questioning over his threat of forming a parallel government in Nigeria should the PDP win the 2015 general elections in the State.
According to the PDP, "Amaechi's effrontery to lead other All Progressives Congress, APC members on a protest march to the Force Headquarters of the Nigeria Police in Abuja Wednesday, November 19, 2014 and the threat of resorting to self help if the APC loses next year's election rather than going to the court to seek redress are weighty, pre-emptive and treasonable and must not be dismissed with a wave of the hand."
The PDP believes that Amaechi is not just posting a poser, but means every word of his threat which he has by all means demonstrated in his relationship and sponsorship of strife in the state which has left the State House of Assembly as well as the State Judiciary under lock and key.
"Governor Amaechi knows too well that he, and his APC are not on ground and cannot win any fair election in the State and the country, hence he has started issuing threats to create panic in the voters.
The party stated further that Amaechi thinks he is law unto himself because he has been hiding under the canopy of immunity clause.
The party urged law enforcement agents to beware and take note of these treasonable threats and act fast and wisely.
PDP assured the people of the state not to give in to politics of coercion and terror and stand firm in their resolve to support the wind of change for better life and improved living standard for the majority of the people,which the PDP out is out to foster on Nigeria.
Rivers PDP declared that evil fashioned against the state and Nigeria will not succeed.

Load more