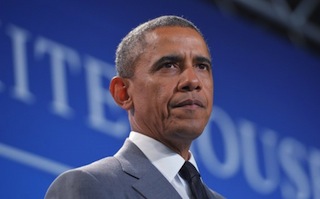 The White House admitted Thursday it was disappointed that leading US television networks — ABC, NBC and CBS — have decided to snub President Barack Obama's prime-time address on immigration.
The White House had hoped for broad prime-time, live television coverage of the speech in which Obama will declare his plans to shield millions of undocumented migrants from deportation.
But CBS News said it would not broadcast the address live, NBC said it would carry the speech only on its news channel MSNBC and ABC across its news digital platforms, not its TV network.
"The decision made by the English language broadcast networks is disappointing," White House press secretary Josh Earnest said.
Two Spanish-language networks, Univision and Telemundo, are to broadcast the speech live when it is delivered at 8:00 pm (0100 GMT Friday) along with CNN, MSNBC, PBS and Fox News.
Earnest said the 8:00 pm time slot will attract "a sizable portion of the growing Spanish language audience at Univision and Telemundo" and "a decent cable news audience."
"And it's the optimal time to capture the attention of Americans on their smartphones and tablets, which as the TV execs will tell you, is how a significant percentage of Americans get their news these days."
A senior administration official speaking earlier declined to detail "private conversations" with news organizations about events at the White House.

Load more