Struggling to come together with consistent teamwork around superstar LeBron James, the Cleveland Cavaliers suffered their third consecutive NBA defeat Friday, falling to the Washington Wizards 91-78.
Even with 22 points each from James and Australian star guard Kyrie Irving, the Cavaliers produced their lowest game total of the season and fell to 5-6 while the Southeast division-leading Wizards improved to 8-3, paced by 28 points from Bradley Beal.
"It's going to be a challenge," James said. "We have some work to do.
"Right now I'm frustrated. Tomorrow I'll be OK. That's who I am. Tomorrow is a new day."
James, a four-time NBA Most Valuable Player, left Cleveland for Miami in 2010 and won two titles with the Heat before returning to the Cavaliers last July, teaming with Irving, big man Kevin Love and new coach Dave Blatt to try and bring his home region team its first NBA crown.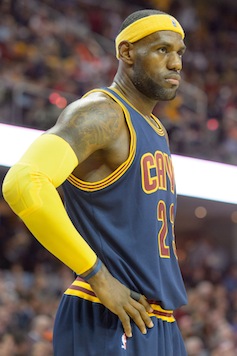 So far, it's still a work in progress.
"We've got to fix this. We have got to get together as a team," Irving said. "The most important thing for us to do is keep our heads up and keep working.
"We have to figure things out pretty quickly. We're going to fix it. I still trust these guys. We have to come out with better fight and it starts with me as one of the leaders."
After cracking 120 points in wins over Boston and Atlanta last week, the inconsistent Cavaliers blew several fast break chances and struggled in key stretches of the second half.
"I'm concerned about everything right now," Blatt said. "We're struggling. We're a little bit in the dark. Ten days ago we're scoring the heck out of it. It's not a different group of guys.
"First thing is guys have to take a good look in the mirror and ask themselves where and how they can impact things positively. You've got to make a change or two but not recreate the wheel. You have to stay in there and show grit."
James, who ranks second in the league in scoring with just under 26 points a game, encouraged Blatt's idea of self-reflection "if you need that" but also lamented 19 turnovers that led to 24 Wizards points.
"That was a big part of it," James said. "It has been a problem for us in our losses. We have to do better.
"We can't worry about individuals. We've got to improve as a team. It's for us to get out of it. It's a winning league. We've got to figure out what needs to be done to win."
The Wizards went on a 15-2 run over a 5:08 span late in the first quarter and early in the second to seize a 32-23 lead and never trailed again. Wall and Otto Porter each had four points in the key run.
At times, the Cavaliers were lethargic on offense, a problem that has hampered Love, whose power forward play has resulted in twice as many 3-point shots as normal just to find a steady place in the attack.
"We just get stagnant at some points," Love said. "When the other team scores on us we might hang our heads and slow down. When we play with pace we play a lot better. When we play for each other, set screens and roll hard, we usually free up a great shot on the inside."

Load more