Jethro Ibileke/Asaba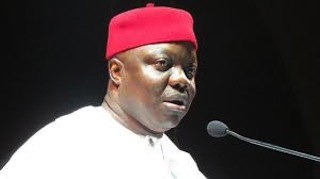 Activities at the Delta State House of Assembly was Tuesday paralysed for several hours, following protest by members of Association of Contributory Retirees, Delta State chapter, over non-payment of pension arrears worth over N16 billion.
The placard-carrying protesters who blocked all entrances to the Assembly complex, prevented people from going out or coming in while their protest lasted at the complex until they left angrily to other state institutions to register their grievances.
Tuesday's protest by senior citizens was the second in two months, as they accused the state government of not releasing their share of the contributory pension scheme of the five per cent that was deducted from their salaries while in service.
It would be recalled that at the wake of the first protest in September, Governor Emmanuel Uduaghan invited the retirees to a meeting at which he allegedly ordered the immediate release of N1.5 billion for payment of the contributory pension arrears.
But two months after the directive, Chairman of state chapter of ACR, Mr. Ovwiroro Ajueyitsi Eric, disclosed that "no concrete action has been taken," just as he lamented that retirees have continued to die without receiving and enjoying their benefits.
"The Contributory Pension Scheme in Delta State is fraught with a lot of challenges, which has caused ACR members to suffer, live in pain and even die since 2010 till date without PENCOM or the state government taking any positive action to save our souls, despite series of appeal," he said.
Mr. Eric further alleged that the pension scheme was being operated at the whims and caprices of the state government, which he also said was at variance with the Contributory Pension Law that kicks against government interference.
"Again, workers were made to believe that PENCOM will check the system and ensure that workers are paid their correct entitlement immediately they retire. This is contrary to what is happening now.
"Accordingly, we call on Mr. President, federal lawmakers, the state House of Assembly and PENCOM to save our souls now by taking viable, visible and feasible action.
"There is no need pretending that all is well, when those who served Delta State, and indeed Nigeria for 35 years are being cast away to die while the governor and his deputy will earn salaries for life after serving the state for only eight years. This no doubt is man's inhumanity to man," he said.
Load more