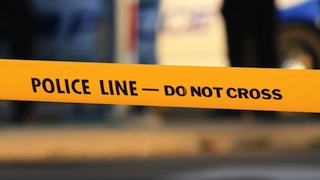 A fire that wrecked the offices of a firm in dispute with Tottenham Hotspur over the club's proposed ground redevelopment was described as "suspicious" by investigators on Tuesday.
Firefighters attended the blaze at Archway Sheet Metal Works on Paxton Road, just yards from Tottenham's White Hart Lane ground in north London, shortly after 5:00am (0500GMT) on Tuesday.
The company is situated on the last remaining piece of land that Premier League club Spurs needed to begin a redevelopment of their ground.
However, seven years of talks between the two sides have yet to see them reach an agreement.
Earlier this year Archway and its owners, the Josif family, challenged a compulsory purchase order — which in turn led to a case in London's High Court and a fresh delay in the start of the project.
London's Metropolitan Police said the fire had been extinguished but Paxton Road remained closed as night fell.
"An investigation has been launched into the cause of the fire," police said in a statement.
"At this early stage the fire is being treated as suspicious. No arrests have been made."
London Fire Brigade said six fire engines and 35 firefighters and officers worked to bring the fire under control and there were no reports of any injuries.
But an Archway member of staff told Britain's national Press Association news agency that the fire had resulted in "very bad" damage.
"The top floor and offices are all gone and 50 percent of the bottom floor was on fire. We don't know anything at the moment. We haven't been allowed to go in and have a look so we are just waiting to see what happens," the staff member said.
He added employees were alerted to the incident at around 5.30am. "No one was working at that time, thank God."
The company has previously said it had received threats and abusive calls from Spurs supporters.
Tottenham plan to build a 56,000-plus capacity stadium next to their existing White Hart Lane ground, which holds just over 36,000.
Archway's legal challenge led Spurs to say it was now "highly unlikely" the new stadium would be ready for the start of the 2017/18 season.
Tottenham are now considering moving to a new ground for a season during the construction period, with the nearby national Wembley Stadium in north London and the Olympic Stadium in east London among their possible options.
Load more