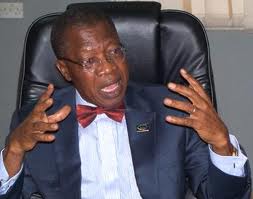 All Progressives Congress (APC) has critised devaluation of the naira and has described the development as not healthy for Nigeria's economy.
The National Publicity Secretary of APC, Alhaji Lai Mohammed, on Wednesday in Abuja told journalists that the devaluation of currency had its implications on the people and the economy.
"When the currency is devalued, it is the worst thing that can happen to any nation. All it means for a country like ours, which is import dependent, is that more naira will be needed to buy raw materials and machines.
"It also means that very soon, cost of living will go up," Mohammed said.
Mohammed said that the party had always warned government about the implication of its economic policies.
He said that the party warned the government that the cost of producing oil in Nigeria was the highest and raised alarm on organised theft of crude oil. "We went further to advise the government to diversify our economy.
"We equally advised government to spend more of our resources in finding new reserve.
"We gave example that while Angola and Brazil have reinvested in new deposit to about 40 per cent, Nigeria had only invested about two per cent.
"These are all the issues that we raised," he said.
Load more