By Prince Arinze Onebunne
Nigeria has a population of about 170 million from the 6.5 billion of the world population. Even with this, less than 20 percent are rich while more than 80 percent are poor. The question you must ask yourself is…. What category do I belong? Do you earn enough? Are you tired of being bossed around or fear of being sacked anytime? Do you want to choose your own working hours? Do you need extra business that will give you extra income? If your answer is yes, then plan yourself out of employment slavery by investing in plantain farming.
Plantain occupies a strategic position for rapid food production in Nigeria; it is ranked third among starchy staple foods. But, its production still remains largely in the hands of small scale farmers.
The contribution of plantain to income of farmers has continued to increase tremendously in the last few years. Unlike some other starchy foods whose demand tends to fall with rising income, demand for plantain increases everyday.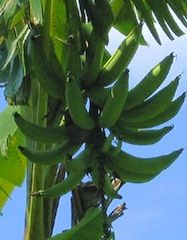 There exist suitable sites for plantain farming in different parts of the country. As little as one plot of land or more could be engaged under small or large scale farming, while several hectares have the potential of producing million tons per hectares a year with right species of plantain. JOVANA FARMS' high-yielding plantain is creating millionaires.
Plantain suckers are one of the most lucrative aspects of plantain farming. The multiplication is high as one mature plantain can produce seven suckers or more. We deliver quality plantain suckers to the doorstep of interested farmers nationwide.
Plantain is a major source of carbohydrate for many people in Nigeria. In fact, all stages of the fruits from immature to overripe are used as a source of food. The immature fruits are peeled, sliced, dried and made into powder and consumed. The mature fruits are consumed boiled, steamed, baked, pounded, roasted, or sliced and fried into chips. A bunch of plantain cost between N900-N1,500 depending on the size and specie.
The thought that Nigeria cannot export plantain products has been debunked. Even though, such venture would enjoy special export license. Large plantain farms have the ability to explore this initiative. With the introduction of industrial processing of plantain, which has recently been adopted, and the increased interest in production by farmers in the country. Mass production of plantain for export is now possible.
The fruits can be processed into flour and packaged for a long time. The natural flavors in the powder can be utilized in industrial food processing. Foods such as ice creams, yoghurt and custard are flavored to enhance their taste. Currently,these flavors are imported into Nigeria in a synthetic form.
Investors can make huge profit by setting-up a suitable processing technology to convert plantain into powder form; as there is a ready market within and outside Nigeria for plantain flour. This intervention will be of benefit to both farmer and the economy. Prayer indeed is good, but while calling on the gods a man should himself lend a hand.
At JOVANA FARMS we remain committed to providing farmers with improved plantain suckers with fast growth and early fruiting. Our plantain species are always a sure bet, exceeding farmers expectations in terms of performance and profitability in all the farms across the country where they are being used. We have what it takes to make you successful; if you desire to invest in plantain production. We are ready and experienced to train, guide and mentor you wisely from site survey, farm set-up, etc.
Since we're all concerned about food security, wealth and employment creation, I am amazed so little is known by the public about the profitability of plantain business and its eco-system preservation potentials. Add to the fact that production of plantain is relatively affordable. And my wonder continues….
Contact us for consultancy or attend Jovana Farms seminars nearest to you and know more opportunities in plantain business. Can't attend? Order for self-tutorial VCD & BOOK. Visit us at www.jovanafarms.com, E-mail:[email protected] or Call: 080 33262 808, for more details.
Load more