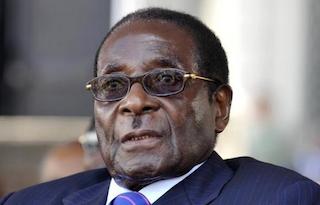 Zimbabwe police have arrested a former war veterans leader on charges of undermining the authority of long ruling President Robert Mugabe, state media reported Saturday.
According to The Herald newspaper, Jabulani Sibanda was arrested on Friday after accusing veteran leader Mugabe of plotting "a bedroom coup" for propping his wife Grace to take a top position in the ruling ZANU-PF while sidelining senior party officials.
"Ousted, renegade war veterans leader Jabulani Sibanda was arrested in Bulawayo yesterday (Friday) and will be charged under section 33 of the constitution which criminalises undermining the authority of the President," the paper said.
The paper said Sibanda also threatened to march to the State House, Mugabe's official residency, to confront the 90-year-old veteran leader over his grievances.
Police could not immediately confirm the arrest.
Sibanda's arrest is the latest clampdown on dissent since Grace Mugabe's surprise nomination to lead ZANU-PF's women's league, amid speculation she could be aiming to take over from her husband when he steps down or dies.
In an interview with a local newspaper in October, Sibanda reportedly said, "All able-bodied people should stand up and block attempts to stage a coup both in the boardroom and in the bedroom."
Shortly after, he was ousted from his post as leader of the Zimbabwe National Liberation War Veterans Association (ZNLWA), a powerful union of former fighters from the country's liberation struggle in the 1970s.
Zimbabwe's vice president, Joice Mujuru was ousted from the ruling party's leadership ahead of a key ZANU-PF congress next weekend, after a sustained smear campaign led by Grace.
Mujuru has also been accused of plotting to assassinate the president, as factions within the party jostle for power following his exit.
On Wednesday, it emerged that Mujuru's bid to seek re-election to the ruling party's central committee was foiled when ZANU-PF rejected her election papers.
Mujuru and powerful Justice Minister Emmerson Mnangagwa were seen as the leading contenders to replace Mugabe, who has been in power since independence from Britain in 1980.
But several of her close aides have been suspended ahead of the congress, in what appears to be a purge.
Mugabe, Africa's oldest leader, is expected to be confirmed as party chief at the congress, but the fight for positions on the powerful politburo could be decisive for the campaign to succeed him.
Load more