Nigeria major opposition party, the  All Progressives Congress, APC on Tuesday began the screening the five aspirants that have indicated interest in running on its ticket in the 2015 general elections.
The first aspirant to appear before the nine man committee headed by former Governor of Abia State, Dr. Ogbonaya Onu was the publisher of Leadership Newspapers, Sam Nda-Isaiah.
The other four presidential aspirants of the party- Alhaji Atiku Abubakar, Governors Rabiu Kwankwaso and  Rochas Okorocha of Kano and Imo State respectively and former Head of State, General Muhammadu Buhari (retd) will also appear for screening before the Committee.
In the address he delivered before the commencement of the exercise, Chief Onu said the committee will based its screening of the candidates on the extent of the conformity with the  constitution of the party, Nigeria constitution and the Electoral Act.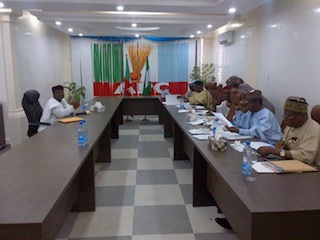 He added that through the screening, APC want to produce a candidate that will  effect change in the country and capable of addressing the the problems confronting Nigeria.
He added that the Committee will also ask the aspirants to proffer solutions to the urgent needs of the country in the area security, economy, job creation, foreign policy and corruption. It is only those we deem qualified that will emerge successful at the end of the exercise.
By tomorrow, we will present certificate to those who scaled through the exercise," said Chief Onu
He also said the aspirants will commit themselves to accept the outcome of the convention that will be used to choose the eventual candidate of the party as well as   rules and regulations of APC, the nomination guidelines, the manifesto, the electoral act and the Constitution of the Federal Republic of Nigeria.
"We would also want every aspirant to give us a commitment because only one will become the candidate, that at the end of the national convention, when the candidate emerges, that all others will support that person and will support the party to ensure that the party will be successful in the presidential election of February 14, 2015," said Chief Onu.
Other members of the screening committee include Dr. Tunji Abayomi, Ambassador Baba Ahmed Jida, Dr. Sam Jaja, Senator Bukola Saraki, Tom Maiyashi, Prof. A. Agbonlahor and Ambassador Fatai.
Load more