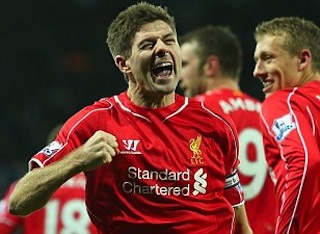 Liverpool manager Brendan Rodgers said Steven Gerrard's goal-scoring display in a 3-1 win away to Leicester was proof he could still be a key player for the Merseysiders, albeit in a changed role.
Gerrard scored the crucial second goal to help the visitors come back from 1-0 down against the Premier League strugglers at the King Power Stadium on Tuesday.
Gerrard was dropped from the starting side for Saturday's 1-0 win over Stoke, a match that marked the one-club man's 16th anniversary at Anfield, and his absence sparked fresh debate about the former England skipper's Liverpool future.
Before the Leicester match, Rodgers revealed the 34-year-old midfielder had been offered a new contract and his form against the Foxes suggested there was plenty of life left in Gerrard yet.
"I think you see the energy of his legs and influence, it was an outstanding performance and a good goal," said Rodgers. "He looked fresh, he dropped back into midfield but has a natural instinct to get forward.
"He arrives in the spot you want for that good finish."
Rodgers said injuries and the transfer of star striker Luis Suarez to Barcelona had led him to deploy Gerrard in an altered role.
"If you look at Steven, last year he was a playmaker," explained Rodgers of a season where Liverpool finished runners-up to champions Manchester City.
"We had three super quick players up-front — (Daniel) Sturridge, Suarez and (Raheem) Sterling.
"He (Gerrard) was not a defensive midfielder, more of a playmaker. But we don't have that similar type (of quick player) this year so we had to change the structure.
"I thought he needed to play in a better role and position," the Northern Irish manager added.
Gerrard is out of contract at the end of the season and Rodgers dismissed reports of any disagreement with him.
"We spoke again yesterday (Monday) just to confirm that we hadn't fallen out with each other!" added the Reds boss.
Related News
"With him it is about the level he can play at and he is a very important player for us. But he's not 24 anymore.
"Did I get the pen and paper out in the dressing room for the contract? No."
– Contract silence –
Gerrard himself refused to be drawn about his future after Tuesday's match, telling BT Sport: "I'll decide when I'm ready. There's nothing to say on the contract at the moment.
"When there is, the fans have known me long enough, I'll come out and say what I need to say."
Leicester took an early lead through an own-goal from Reds goalkeeper Simon Mignolet before Adam Lallana equalised.
Gerrard then put Liverpool ahead after the break before Jordan Henderson added a third goal late following the red card shown to Leicester defender Wes Morgan for hauling back Rickie Lambert.
Leicester remain bottom of the Premier League and have now gone nine games without a win.
The pressure appeared to be getting to Foxes manager Nigel Pearson, who was involved in an angry altercation with a supporter as he emerged from his usual vantage spot in the stands late in the game.
"I had a spat with a fan towards the end," Pearson said. "I don't know what they are looking at at times.
"If they cannot see the players are having a proper go maybe they need to stay at home. The players are giving everything. I will always look for the positives.
"It is very easy for people to look at what we are not good at. I don't like the commitment of my players being questioned. If they honestly think they are not committed, they are very wrong."
"I thought my team played very well. It was a tight game and we were a bit unfortunate to lose. Even when down to 10 men we caused them problems.
"This losing streak is a difficult cycle to break. We're not getting the results that our performances deserve."