Cyriacus Izuekwe
A businessman has been arrested by the police after he reportedly sold four plots of  Aswani Market land valued at N83 million to his partner in Isolo, Lagos State Western Nigeria.
The land was acquired by the Lagos State government for the construction of Aswani market.
Abia State-born  Cyprian Nwankwo, who is the Managing Director, Advance International Merchant Limited, allegedly sold the land to his business partner, Elder Monday Chinke in Isolo.
After he sold the land to Chinke, who is a shareholder in his company and prepared a deed of transfer, it was discovered that the land belonged the Lagos State Government.
After the discovery a petition was sent to the police at Zone 2, Onikan, Lagos, who arrested Nwankwo on the order of the Assistant Inspector General of Police in charge of Zone 2 Police Command, Mr Umar Manko.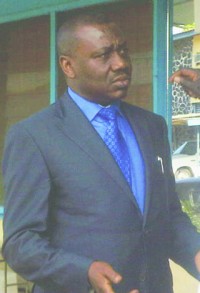 In the petition dated 24 October, 2014, Chinke said he was a business partner with Nwankwo who unilaterally decided to give him his own share from the assets of the company.
He said Nwankwo contacted an evaluator and it was resolved that his own share was worth N83 million.
He said he requested for cash, but Nwankwo insisted that he would pay him his share with the land and claimed that the company had no cash to pay him.
He said when it became apparent that Nwankwo was not willing to pay him cash, he accepted the land he offered.
In the petition to Manko, Chinke further stated that he was a shareholder and director of Advance International Merchant Limited with 10 percent shares.
Chinke said he was removed from the board of directors and an evaluation of the company's asset was done to determine his stake which stood at N83m.
He said after the evaluation, Nwankwo directed his lawyer to prepare a deed of transfer in favour of  four plots of land at Aswani Market.
Chinke said Nwankwo assured him that the title of the land was genuine.
He said in attempt to take possession, he was directed to chart the land at the office of Surveyor General of Lagos State.
He said he was shocked to discover that the land was neither the property of Nwankwo nor the company as the chart revealed that the land was acquired by the Lagos State Government for the construction of Aswani Market.
Chinke said when he confronted Nwankwo, he told him that he had paid him off.
In response, Nwankwo said he did not know that the the land belonged to Lagos State government and was meant for Aswani market.
He said he bought the land from a royal family in Isolo was not prepared to pay Chinke any money.
He said since he had paid Chinke with the land, he had to bear the loss because the transaction was a contractual agreement between them.

Load more